What if Karisma Kapoor were to replace Kareena Kapoor Khan in Jab We Met as Geet?
Kareena Kapoor Khan's character Geet from Jab We Met enjoys an ever-increasing fandom.
But have you ever imagined what the movie would have been like if Kareena's sister Karisma Kapoor were to play her role? Dunzo Daily's latest ad shows how it would have turned out.
In its latest marketing campaign titled 'Grocery ka drama chhodo, Dunzo Daily karo,' Dunzo has been featuring India's favorite movie stars from the 90s being overly dramatic about their everyday grocery problems. This time, Dunzo has done something unusual. Its ad features Karisma Kapoor as Geet from Jab We Met. The older Kapoor sister spoofs the younger one, Kareena Kapoor Khan's iconic character, which GenZ has grown up loving. And, Karisma nails the role. If anyone else could play Geet without taking away the character's charm, it is the actor's older sister.
Created in Dunzo's signature tongue-in-cheek tone of voice, Karisma's ad throws a few Jab We Met references to convey how it is easier and quicker to order groceries online. Before the release of the final advertisement, Dunzo had released an Instagram post yesterday. It aimed to build curiosity and excitement around the ad launch.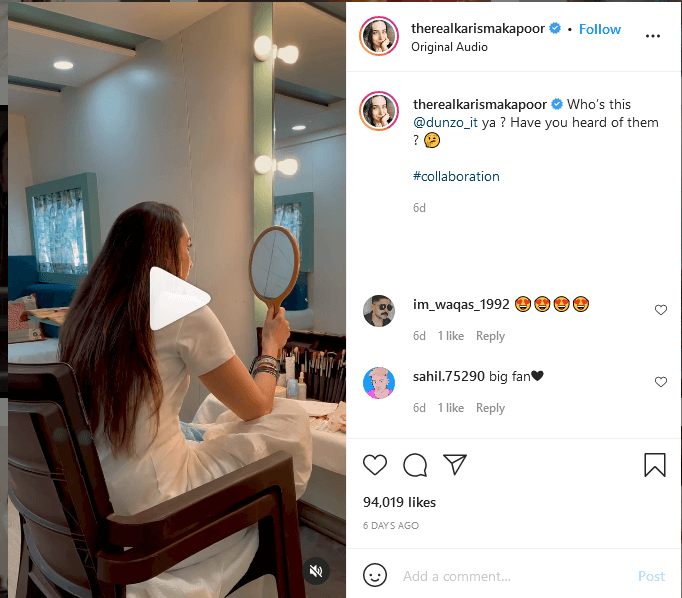 Dunzo's latest campaign is a repositioning exercise, which aims to change its image from primarily being known for its quick pick-up and drop service for all categories, to being one of the top players to get your groceries fresh and fast. The first ad in this campaign featured a revival of Bollywood star Sunny Deol's famous dialogue Tareekh Pe Tareekh, which spoke about the difficulties users faced with booking slots for grocery delivery on other apps.
It was followed by another ad with Kannada star Puneeth Rajkumar.
The campaign has been entirely written and conceptualized by the in-house brand team, and shot by Basta Films.
Source: Business Insider India
In this article