Client: Aditya Birla Health Insurance
When staying active becomes addictive!
The Objective
Aditya Birla Health, a new entrant in the Health Insurance market needed to topically connect with their audience during the winter holidays season.
The brand's purpose – To encourage and motivate families to get healthier.
The Insight
The holiday season means the time to binge!
What if we could turn this around and make it the perfect opportunity for fans to get rid of the one thing that they do not like about the holidays – weight gain!
The Big Idea
This New Year, we change the notion of fitness being treated like a discipline!
Together with a renowned Fitness Expert, we introduced a 6-Minute Activ Workout set, from the POV of The Movekars – The family that loves to move and stay fit!
Creative Execution
– Website
We created a mobile-first interactive platform that showcased the 6-min workout from the POV of the fun & fitness loving Movekars family, to highlight the lifestyle aspect. Moreover, the workout set was created in such a way that it suited different lifestyles, needed no equipment and targeted the core muscles!
Social Media Execution
– Facebook
#Themovekars 6-min active workout was promoted through Facebook using innovative carousel ads, GIF ads and targeted media.
A contest was created for fans to send in a video of them doing the workout to win amazing gifts too.
– Twitter
To increase participation, fans and followers were asked to share the workout videos on Twitter to win gift vouchers. The response was phenomenal.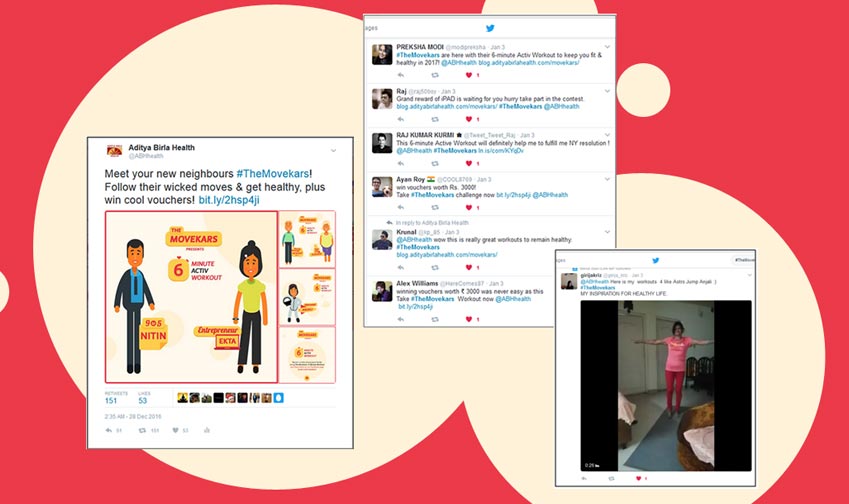 A blog post redirected all the subscribers of the blog to the microsite and encouraged them to participate in the contest.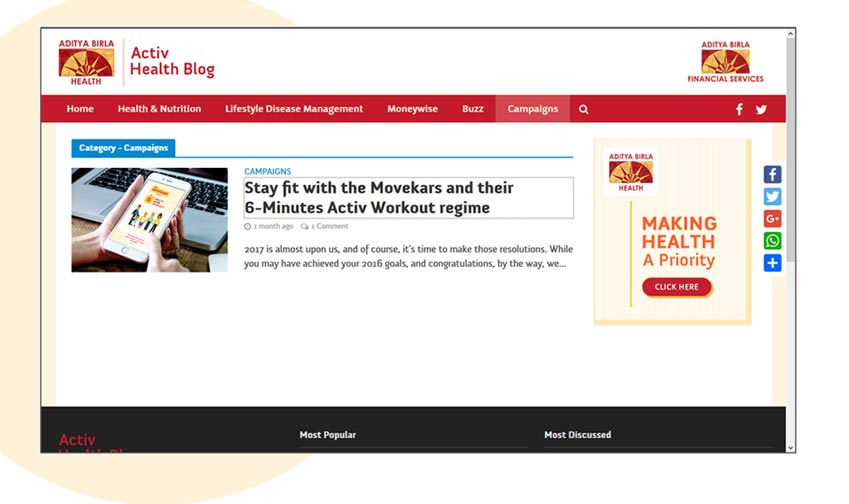 The Performance
As soon as the contest begun on Twitter, the hashtag started trending at #1 in no time.
The Outcome
More than 4.5k video entries, reaching more than 2 million users, garnering more than 10 million impressions in just a day!
The sentiment score reached a never before of 98.
The mobile experience got consumers moving, gaining us more than 45% participation from mobile.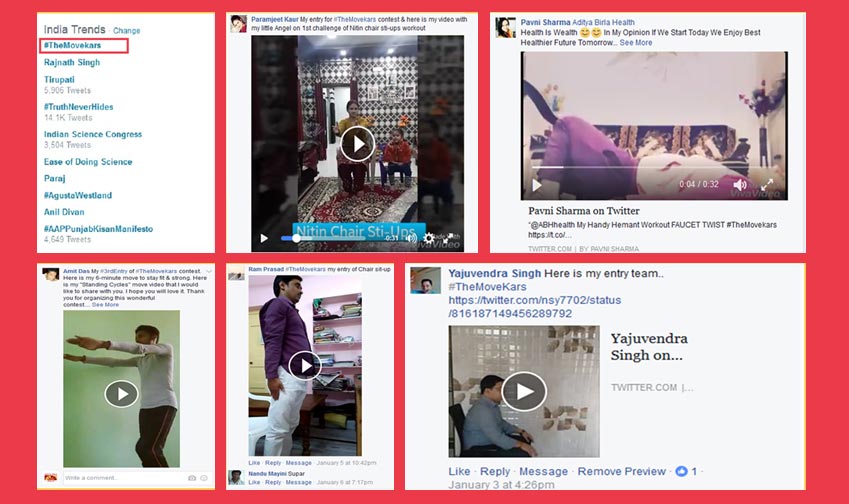 On Facebook
More than 200,000 likes and 800+ shares garnered.
Fans praised the campaign and expressed their love through more than 600 comments with videos.
10,000 fans gained.
In this article