The forecast: Following a major shift to online retail in 2020, retail ecommerce sales will continue to grow by double digits through 2023 and make up an increasing share of total retail sales worldwide. By 2023, we project worldwide retail ecommerce sales will total $6.169 trillion and make up a 22.3% share of total retail sales, up from $3.351 trillion and 13.8% in 2019.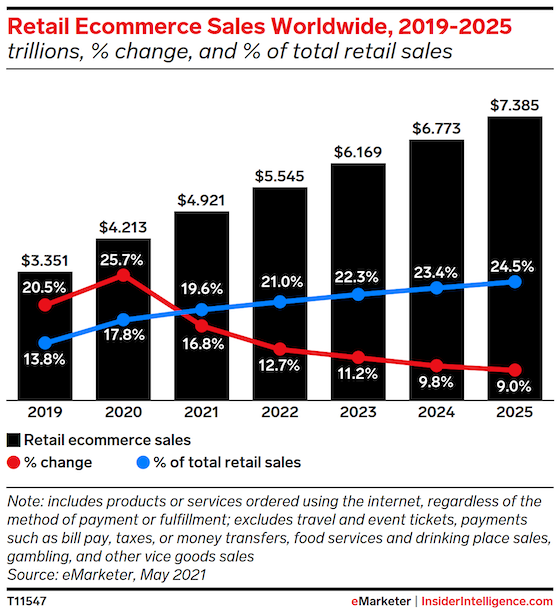 A deeper dive:
We expect ecommerce growth will remain strong throughout 2021 as the pandemic persists in many parts of the world and more consumers have gotten used to shopping online.
China has by far the largest retail ecommerce market, accounting for a 52.1% share of total worldwide sales. The US has the second-largest market but makes up a far smaller share than China, at 19.0%. The rest of the world's ecommerce markets each make up less than a 5% sales share.
In 2020, all 32 markets we track recorded high growth in ecommerce. All markets recorded double-digit growth except Argentina, which had triple-digit growth.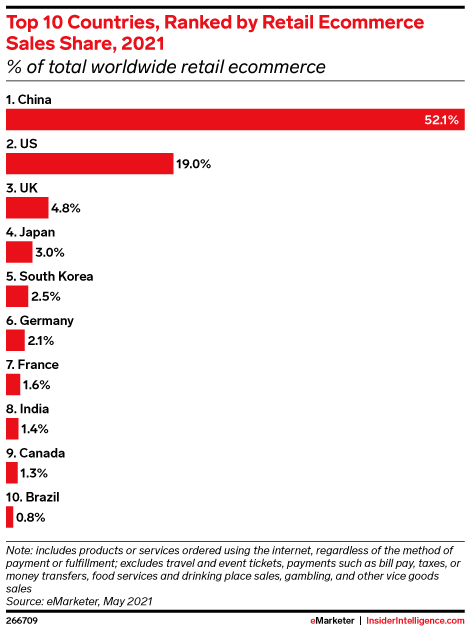 Looking ahead: Worldwide ecommerce sales will continue their upward trajectory, reaching $7.385 trillion by 2025 and making up a 24.5% share of all retail sales. In 2022, China's retail ecommerce sales will surpass 50% of total retail sales in the country and will climb to 56.8% by 2025.
Source: eMarketer