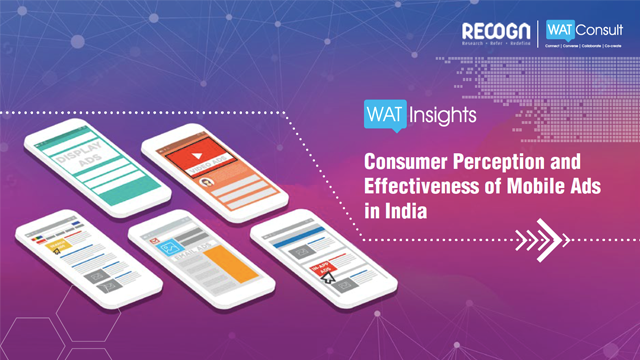 Digital agency WatConsult, through its research division Recogn, has launched a report on the 'Consumer Perception and Effectiveness of Mobile Ads in India.'
Pegging ad spends on mobile to grow at 50% CAGR by 2020, the report delves into the adoption scenario of mobile devices in India, consumer perceptions of digital ads on mobile vis-a-vis desktops, their impact on performance, and concerns.
WatConsult also highlighted some findings from the report, and we'll share a few that we found quite interesting –
Ads of categories such as electronic products, clothing & footwear, books, movies/music/games are highly clicked and purchased.
Health & fitness and food & beverages are mostly clicked but not purchased.
Jewellery, pharmaceutical products and insurance products ads do not get clicked much.
Mobile ads are perceived to be more useful but less engaging versus desktop ads which are perceived to be more engaging.
Digital marketers can purchase the full report or download a summary from this link: http://recogn.in/watinsights/mobileads.php
In this article