The limited-edition Vim Black aims to make dishwashing easy for men so as to help them brag more.
Ever noticed it is men who brag about having performed the tiniest of household chores and remain oblivious to the eye roll women dole out each time they hear this chest-thumping?
One could have expected the myriad of LinkedIn leaders and creators to pick up this insight and turn it into some thought-provoking gold. They didn't because one of India's FMCG giants Hindustan Unilever (HUL) picked it up.
HUL could have used its marketing and advertising muscle to eliminate gender from the art and act of dishwashing. It has instead rolled out a dishwashing liquid for men. Yes, a dishwashing liquid for men. Once again, a dishwashing liquid for men.
View this post on Instagram
What was and is a chore performed mainly by women now has a product, critical for said activity's completion, dedicated to men.
Ladies and especially the men, please say hello to Vim Black – a dishwashing liquid designed for men.
Vim Black for Men: A weak attempt at purpose-driven advertising?
The product launch is backed by a digital ad film starring Milind Soman. In the film, a man is seen bragging to a woman in a gym about how he helped his mother do household chores. Soman mocks the man for bragging about helping out at home offering a slow clap which is joined by other people working out at the gym.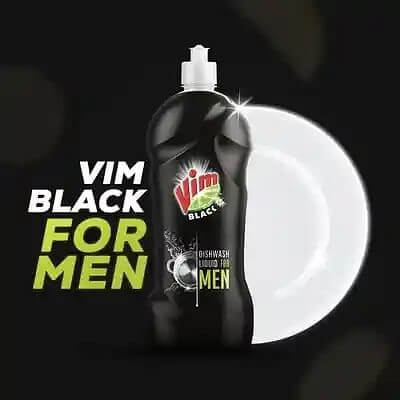 The tagline for the new product continues to mock men who glorify their contribution at home – Easy to Clean, More to Brag. 
View this post on Instagram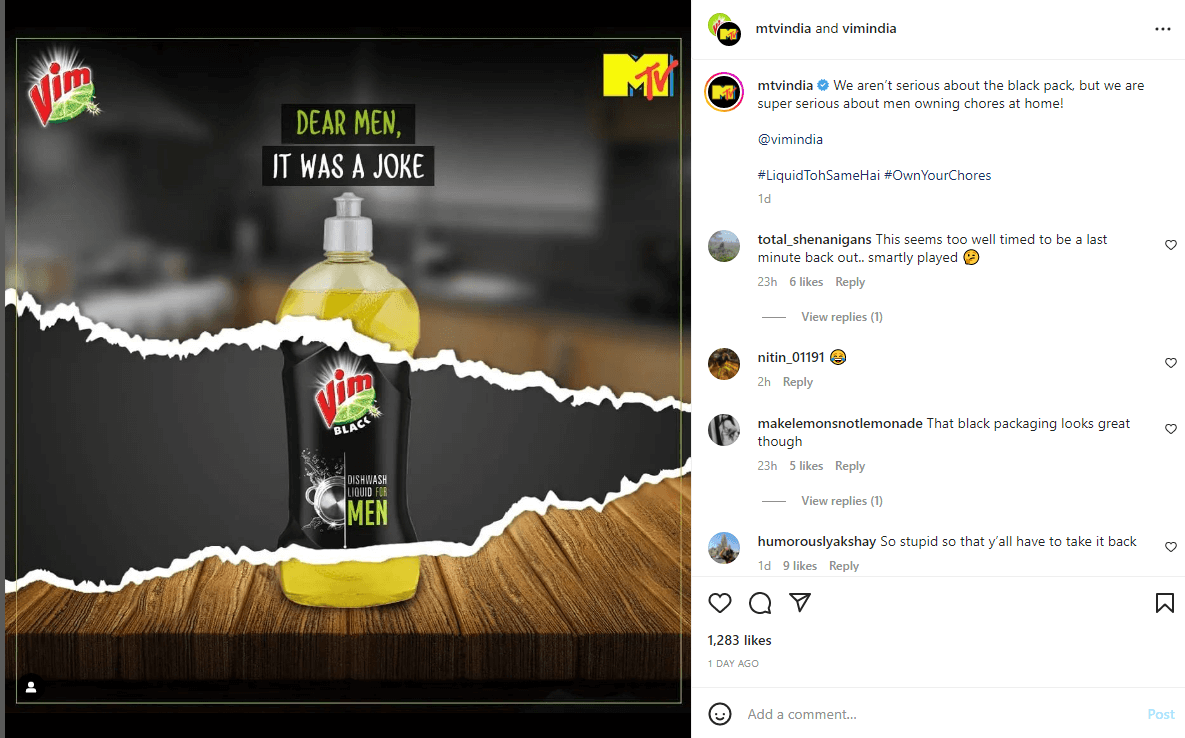 The product listed on the company's D2C website was being sold for Rs 0, down from Rs 185, and is now sold out. The broad suspicion is that the brand has not launched any such product and the campaign is meant to drive awareness about men contributing equally at home with domestic chores. 
After the initial launch and reaction, the brand came forward to reveal it was all a "joke". 
Vim Black for Men: A weak attempt at purpose-driven advertising?
The Instagram page of Vim India has a few other celebrities promoting Vim Black. Prathamesh Maulingkar, Vivek Dhadha and Sahil Salathia were seen unboxing the Vim Black box which has black scrubbers and a black apron. The product ad film was also posted to the MTV India Instagram handle, raising more questions about a potential tie-up between the brand and the channel.
Some comments from marketing experts on the campaign
Nisha Sampath, brand consultant and founder, Bright Angles Consulting 
Vim is a mass brand, at the bottom of the ladder through Vim bar products they target masses, and with the liquid product, they are targeting the middle class and upward class.
The first question I asked myself is whether this advertisement is targeting which category of audience, and it is neither of them. The brand will primarily speak to women, not to men, and with this advertisement, the women are also irritated and men of course. This is more like a joke which is going over people's heads. 
Honestly, the brand has a mass audience, and I am not sure how many women will recognize Milind Soman. This ad is going to affluent and up-market audiences who won't even pick the dish wash themselves.
If the advisement would have cast a more popular face, then it would have registered better with the customers. The category codes of the ad are such that it looks like a protein powder ad rather than a dish liquid one and I'm guessing this is some kind of activation to get salience for the brand, but unfortunately, the audience is criticizing them on social media, and most are women.
Vigyan Verma, founder, The Bottom Line 
This is not the real stock-keeping unit (SKU) a customer will find on the shelves. The campaign is intended to drive engagement and some conversation and is designed in a way that it is targeted at the affluent segment which wants to showcase itself as bias-free. 
However, a vast chunk of the middle-class population uses Vim and, in that case, the gender-based segregation role is more prevalent, and they would have been an appropriate audience for the campaign. From a target perspective, it seems to have been done with the intent of some social media reaction rather than creating a real impact. 
The challenge is reaching out to real audiences which is tougher, while on Instagram and Twitter, the reactions are faster even though the audience may be critical, or even hypocritical.
I was wondering if there could have been a more interesting way to end the digital experience rather than a sold-out button on the shopping page. 
Anchit Chauhan, AVP, planning, Wunderman Thompson 
The advertisement simply highlights the fact that most men still don't contribute regularly to completing household chores, but whenever they do, they feel they've done something special. They feel they deserve special love and recognition if they have helped with chores; this comes from the cultural truth of how boys in every house are celebrated if they even once make a cup of tea. The same is not true for most females as household chores culturally have been deemed to be their duty and the norm.
The ad raises an important question – what will it take for men to participate in household duties regularly, maybe a specially crafted detergent? Launching a new product was a gimmick but it has got viral and started a lot of conversation. Maybe after this, the company feels encouraged to launch special edition packs.
Jasravee Kaur Chandra, director, Master Sun- Consulting Brand of Adiva L Pvt Ltd 
The Vim Black is a spoof, in a humorous way that is encouraging men's participation in household chores. There are other ways that other Unilever brands are encouraging the men's participation like the recent Surf Excel Matic's TVC where a father demonstrates to a son how easy it is to remove a stain, after a ketchup spill on the shirt.
The brand is also tackling the 'men in black' narrative which tackles the uncomfortable topic of unconscious bias and the assumptions that we make about other people, in an endearing manner, which puts us at ease.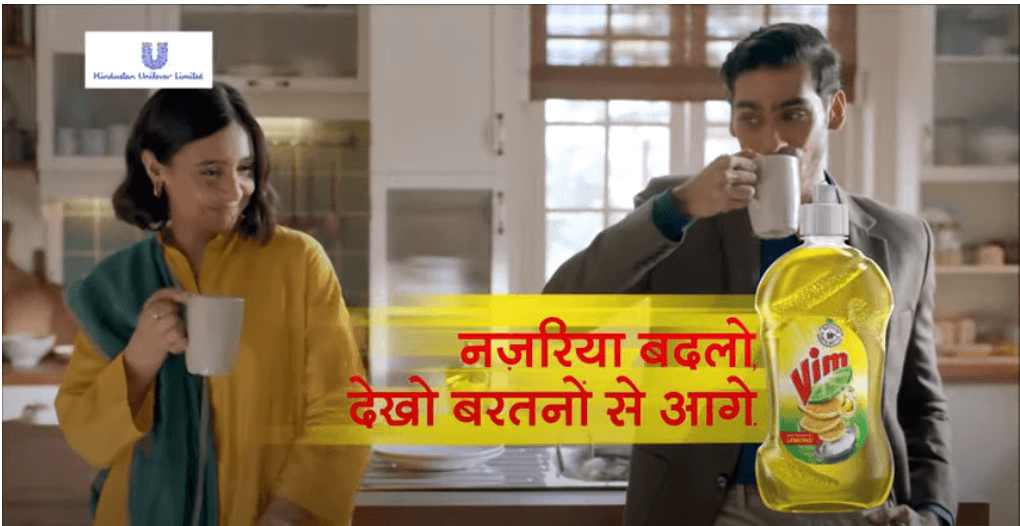 The marketplace competitor brand Pril has been making the brand integral to a modern couple's banter around sharing the load. Vim's current ad is also in sync with the earlier communication theme 'nazariya badlo, dekho bartano se aage'.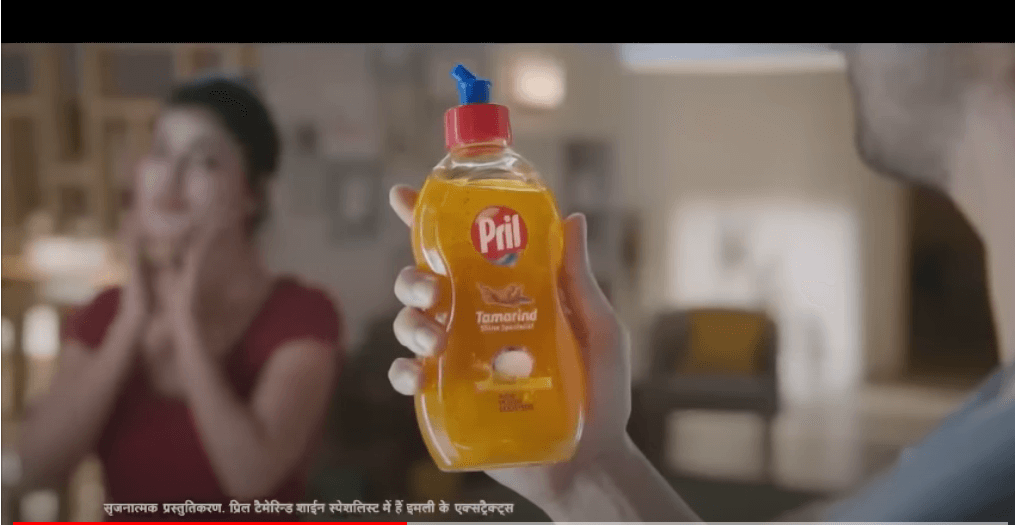 Source: Afaqs, Youtube



In this article