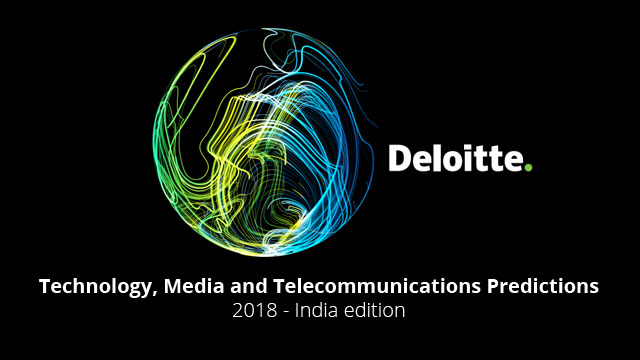 Deloitte India released the 8th edition of 'TMT India Predictions' that reflect the evolution and key trends in three sectors viz. Technology, Media, and Telecommunications. The publication highlighted VoLTE, machine learning and OTT among the growing trends that will impact businesses.
We hand-picked the most relevant insights for digital marketers and businesses from the report –
1. Analytics will become mainstream
Predictive analytics and intelligence from data mining is expected to go mainstream in India. The main drivers for this will be technological advancements to rapidly integrate field data with back office, and rich and intuitive visualization tools to bring insights to solve business issues.
2. OTT will grow even faster than expected

Original content will be a game changer for OTT, as players focus on their regional content library to increase market share. India's OTT video viewer base is expected to grow to 355 million by 2020, making it a chosen channel for advertising.
3. Adoption of machine learning will intensify
Machine learning will intensify among medium and large-sized enterprises. Compared to 2017, the number of implementations using machine learning technology is likely to double in 2018, and then again in 2020.
4. Businesses will realize IoT potential
Digital first organizations will increasingly adopt IoT as a part of their comprehensive digital roadmap. Enterprises that invest in IoT only as a tool to provide operational visibility will be underutilizing the power of IoT systems.
5. Sports content on digital media will unlock new horizons
With the growing consumption of sports content in India, social media, websites, and data analytics will play a pivotal role in increasing viewership, fan interaction, and better ad placement.
6. Smartphone dynamics are shifting
The proliferation of smartphone applications to devise solutions to social issues, well-performing m-commerce market, and rising uptake of digital payments will be some of the key drivers of smartphone proliferation. The days of feature phones are far from over with a 56% share of the total user base.
The full 'TMT India Predictions Report 2018' can be downloaded from Deloitte's website.
In this article