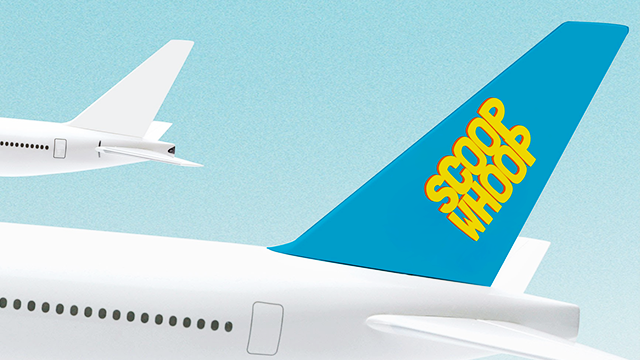 ScoopWhoop, has announced the launch of inflight feed, where passengers can consume content while flying above 16,000 feet. This is the first of its kind innovation by the content publisher that is aiming to disrupt the industry by relooking at the way audience consumes content on-board.
The innovation will allow users to read ScoopWhoop content through their app, while flying, without internet connectivity. The feature which is currently in its beta version, appears as a push notification only when one is on airplane mode and is flying above 16000 feet (cruising altitude),  and dissolves once the altitude drops.
The 'inflight feed' feature in ScoopWhoop's existing app has been conceptualised by Dentsu Webchutney. The feature has been strategically created to help bring out a fresh communication perspective for ScoopWhoop users and relevant intended audience by giving them access anytime and anywhere, even while they are flying.
Speaking on the announcement, Debarshi Banerjee, Co-Founder and Chief Product Officer, ScoopWhoop Media said, "We are very excited to announce the launch of our 'inflight feed' feature, aimed to establish an indispensable relationship with our audience anytime, anywhere! We are very happy to collaborate with Dentsu Webchutney to conceptualize the new feature. This is the first time that a content publisher has forayed into distributing content basis behavioral patterns for airborne consumers. ScoopWhoop's aim has always been to become a customer product and continue to revamp the strategy to innovate with the changing environment. We are hoping that the new update will help us build a further close connection with our audience."
Commenting on the association and innovation, Gurbaksh Singh, Chief Creative Technologist at Dentsu Webchutney said, "Flying in India is mostly a boring experience due to unavailability of in-flight entertainment services. We are delighted to collaborate with ScoopWhoop to develop an innovative feature that will change the way audience consume content. It was fun building the feature; we have deployed over 500 hours in air while testing the feasibility of the feature."
"We always look for new interesting ways to engage the users. We are quite excited about this new innovation and our endeavor will be to continue to work towards adding more salient features to this update." added Sudesh Samaria, Chief Creative Officer and Co-Founder, Dentsu Webchutney.
In this article