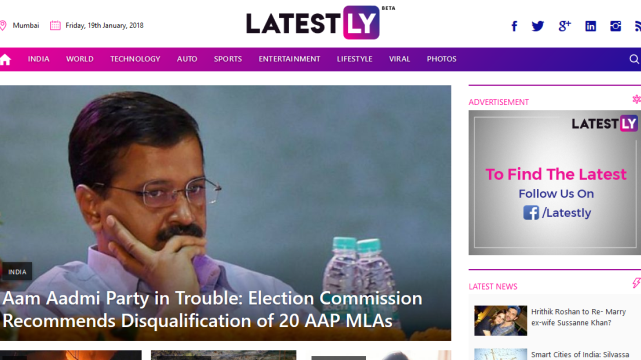 Pittie Group announced the launch of LatestLY (www.latestly.com) – a definitive destination for trending stories across categories like World News, Politics, Sports, Entertainment, Lifestyle, Technology, Automobile, etc.
LatestLY is India-centric but will share, present and curate breaking and trending stories from India and across the world, catering to the fast-paced, dynamic needs of the millennial.
According to a press note from the Pittie Group, LatestLY will present news from verified sources along with well researched articles and a comprehensive analysis of the subject.
Venturing a step beyond only providing news, LatestLY claims to enhance the reader experience by gathering and presenting researched facts that supplement the trending stories of the day, creating a platform for consumers to analyze and form their informed opinion of the subject.
Aditya Pittie, chief executive officer, Pittie Group, says in the press note, "In an ecosystem where news is made sensational to grab more eyeballs, LatestLY envisages to fill the void of accurate and relevant information, especially for the youth, by enabling them with data to curate their own educated opinions. LatestLY will focus on the What, When, Where, Who, Why and How of a trending story and help the discerning readers with a detailed analysis that goes beyond just reporting of news."
Rahul Shrivastava, chief strategy officer, LatestLY, says, "While other players in the space report news, LatestLY sets itself apart by also offering ancillary information that augments the story. The website will host a series of in-depth long form articles curated by in-house domain experts and guest columnists along with short-form quick information pieces around the latest trends for daily consumption."
In this article