Whether it is the Cadbury Celebrations ad, where an army officer's family reunites for Diwali, or the Vodafone ad, where the mobile network helps families come together to celebrate the festival, ads around Diwali have common themes. Bright lights, vibrant colours, cheery families and a happy vibe. It's exactly these themes that OnePlus pokes fun at in its latest ad #SimplyDiwali to tell us that eventually it's only the offers that matter. This is as per a report by Afaqs.
In the ad, we can see, on a television set, 'a bunch of random people pretending to be a family and doing cliché festive things'. The visual then changes to 'someone eating a plate full of sweets for the sake of it, destroying all their dieting plans'. Finally, we see a girl dressed up in festive clothing dancing with firecrackers in her hand. 
The voice-over then tells us that none of this has anything to do with the ad. Instead of showing these same themes, OnePlus is bringing out a Diwali ad that we don't expect to see and offers 'that will actually get you excited'.
The beauty of it is that it employs all the elements of a typical Diwali ad, but only to make fun of it. A hand is visible in the frame changing the channels, but whichever button it presses, the visual remains the same, indicating that all ads are eventually the same. Though the television sets keep changing with the visuals, all the three devices shown are really old models – to say that just like the sets, the ads are also out of date.
After all the cheery images in the ad, we are shown an image that is in stark contrast to the Diwali theme. Unlike the bright lights and colourful attires that represent Diwali, we see a girl dressed in black standing against a dark background.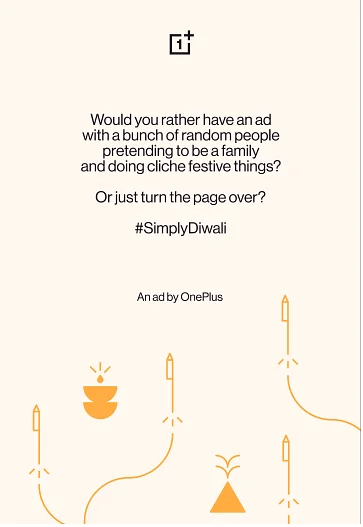 This ad follows OnePlus' print ad as part of the same campaign in The Times of India on Monday. The copy asks ' Would you rather have an ad with a bunch of random people pretending to be a family and doing cliche festive things? Or just turn the page over? #SimplyDiwali.' The next page gives details of attractive offers for their devices like mobile phones and television.

Leading streaming platform Netflix had created a very similar ad in 2016 with film director Anurag Kashyap, where it also spoofed the typical Diwali ads. The film took us through various Diwali ad clichés, including a 'man gifting jewellery to his wife' shot, 'children playing with sparklers' moment, and even a 'grandfather playing the piano' visual. Towards the end, when the family nestles together for a selfie, Kashyap finally turns to the camera and asks the viewers why they are still watching the ad.
In this article