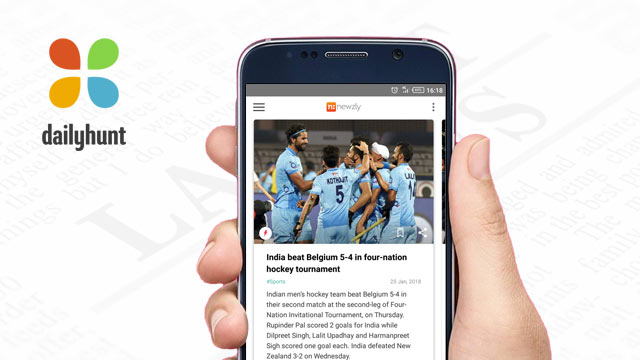 Bengaluru-based news and ebooks' mobile app DailyHunt has now launched its news-in-brief app, Newzly, for android users.
The app experience
The app has a story-card based design whereby swiping horizontally you can seamlessly shift from one news story to another. If you are looking for a particular section you can simply swipe down and select from – India, Entertainment, Sports, Business, World and Technology. Each story card can is enabled to be bookmarked and can be shared on social media, including – Facebook, LinkedIn and Twitter.
Customising your news feeds is also possible as per the topics of interests of the user.
The idea behind the app is to provide the users with a quick summary on the breaking and trending news, especially those users who due to paucity of time find it hard to browse through news pieces, the traditional way.
Available in 9 different languages the creators of the app want to expand their linguistic reach even further in the coming months.
Virendra Gupta, Founder and CEO, DailyHunt, said, "India has a large local language population with diverse needs and the launch of Newzly is part of our expansion of the product portfolio to serve those needs."
About DailyHunt
DailyHunt is a News and local language content application with over 155 Mn app installs offering 100,000 news articles in 14 languages licensed from over 800 publication partners every day.
In this article