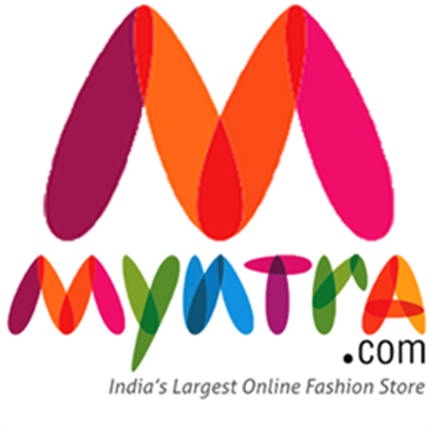 Myntra has quietly built two AI-designed labels that it says are raking in millions in sales. Now, it wants to sell the formula to the entire fashion industry. This is as per a report in the Economic Times.
It all began with a small hypothesis three years ago. At the time, Myntra, the Flipkart-owned fashion e-commerce company, had just embarked on an internal pilot around machine-vision technology, MV in industry parlance. Ananth Narayanan was taking charge as Myntra-Jabong CEO. The MV algorithm was at its most basic, where it could recognise images — a shirt, a dress, a pair of shorts, etc.
As the pilot began showing promise, Narayanan would quietly challenge his team to explore more possibilities. "The question I asked the team was, if you can recognise images, you should be able to recognise trends. If you recognise trends, why do we need to stick to [traditional fashion seasons] spring/summer and autumn/winter?"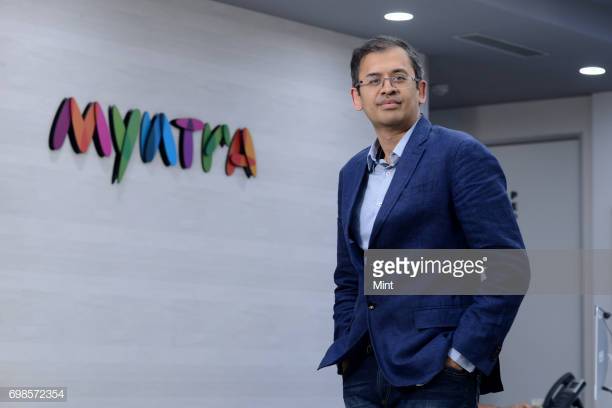 Narayanan had no background in fashion. He had spent 15 years at McKinsey and Company as a managing partner, and before joining Myntra, as director, specialising in auto and product development.
"But all of us (the Myntra team) [understand] tech and innovation and disruption. A lot of it is about asking the basic question: 'why?'" Narayanan says. Why shouldn't Myntra explore using its tech chops to disrupt the way fast fashion was always sold? Especially in a country, where, as he describes, "there's mostly only summer, a little bit of spring, and almost no winter".
There was another big problem with how the fashion business was always done: wastage. In the traditional fashion cycle, brands tend to block fabric anywhere between 18 months and two years in advance. Designs are frozen between 12 months and 18 months ahead. And then starts the process of making the article (a T-shirt or a dress, and so on), six or eight months before it goes on sale. Since this involves mass production, within six months generally 30% of the batch is left unsold, which is typically cleared via discount sales.
The global fashion business is pegged at USD2 trillion according to industry estimates. Of this, at least 3%-4% is spent on design. Where a technology such as MV is likely to be useful is in minimising design costs while maximising effectiveness.
Estimates also suggest 20% of that USD2 trillion, or USD400 billion, is lost sale, or sale at a high discount. "Can we reduce that waste by 20%? That's USD80 billion-USD100 billion. Even if you take a small portion of it, it's a very large business. The entire fashion and lifestyle market in India is USD100 billion," says Narayanan.
"Essentially, in a traditional fashion cycle, some of them may actually end up selling well, and some of them may not. In a non-fast cycle, you make these bets well ahead of time, you produce a lot of assortments, and then it's a hit and miss," says Jeyendran Venugopal, Myntra's chief technology officer. "Because it's being done through, primarily, gut feel."
Thus began Myntra's fast-fashion journey: a conscious, artificial intelligence (AI)-led bet to compress the entire cycle — from design to availability in stores — to 30-45 days. Currently, Myntra has two AI-led fast private labels: Moda Rapido and Here and Now. The former is entirely designed by AI.
It had launched Moda Rapido, a fashion brand powered by artificial intelligence in September 2015. Artie is a robot character created by Myntra to represent Moda Rapido, the in-house brand that the company says will be capable of offering new styles and designs to its consumers every week round the year. "We will bring new products every week. We will react to everything that is selling well, go back and make it, and bring it for our customers in 20 days," said Gautam Kotamraju, who was senior vice president for new initiatives at Myntra during that period.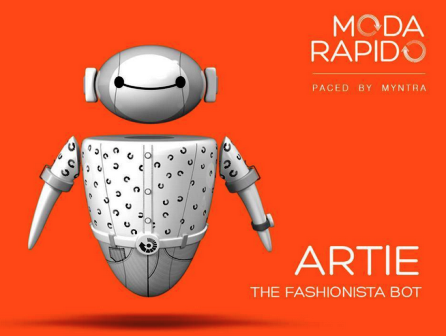 "Whatever products you see under the Moda Rapido brand are based purely on (artificial) intelligence and there are no designers involved in the process," said Ganesh Subramanian, who was head of new initiatives at Myntra, during that period."It is machine created mostly. We are calling it the Insta Trend."
The software will scan fashion data available on the Internet looking for what consumers are looking for, and using that data it will come up with the key attributes that they like.
It took eight months for a 25-member tech team at Myntra to build this brand at its Bengaluru facility. Myntra used computer vision for machine to learn fashion and its attributes and had a few design specialists who helped the machine to learn.
Both brands have been hits. Moda Rapido, Myntra claims, has seen 3x the sell-through rates with 2x the margins and is Myntra's most profitable brand, growing at about 200% year on year. It has been positioned as a mass brand with a price range of INR500-INR1,300.
Here and Now, the company says, is its fastest-selling brand and the second-largest apparel brand within seven months of launch. According to Narayanan, the two brands are now worth USD20 million in revenue.
"It is actually EBITDA [earnings before interest, taxes, depreciation and amortisation] profitable with all costs loaded, because we have [only] three product managers, eight engineers, and four designers. It is very light for a brand of that scale," Narayanan says.
To be sure, over the last 18-24 months, AI has emerged as an integral part of the fashion business globally.
MadStreetDen, a Chennai-based AI startup, has a fashion-tech product, Vue.ai, which counts global giants such as Diesel and Levi Strauss & Co among its clients.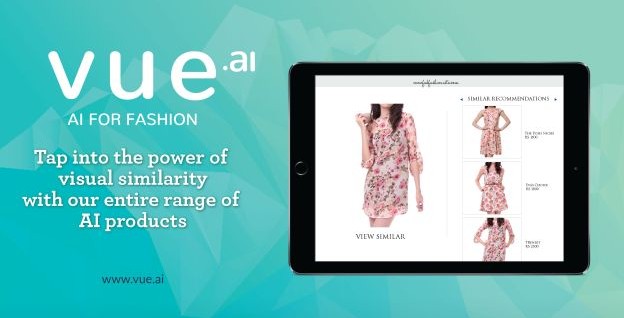 Last year, an Amazon team based out of San Francisco developed an algorithm-based fashion designer, which could come up with styles from scratch by analysing images fed into its engine.
StitchFix, the subscription-based fashion startup, follows an algorithm-led predictive model to identify gaps in its inventory, supplemented with its own AI-led design process for its in-house label.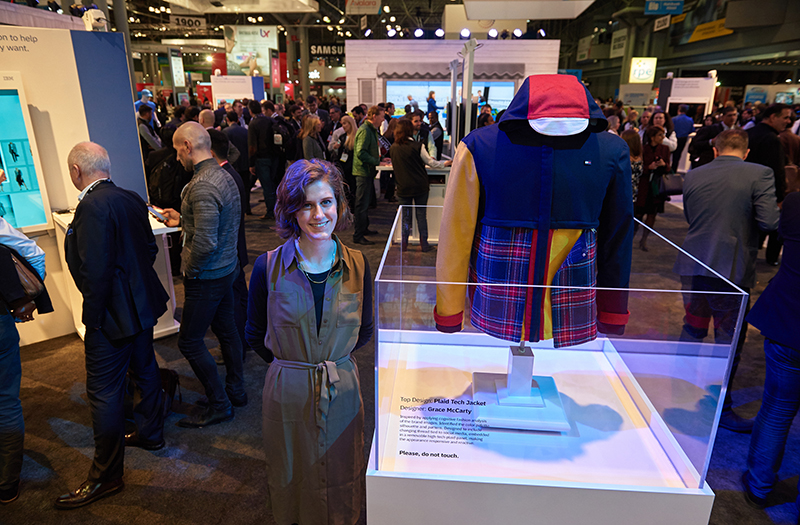 In January, Tommy Hilfiger partnered with IBM and the New York-based Fashion Institute of Technology for the "Reimagine Retail" project, where AI would be used to "redefine its fashion design and supply-chain processes".
Myntra believes AI will help it respond quickly to what is trending — or going viral.
"The goal is to try and produce fashion that caters to that trendiness. And produce top sellers in small batches, small assortments," adds Venugopal. "Because we do so many styles by iterating every 30 days, we don't have to produce several tens and thousands of units, and then take a huge bet 12 months in advance."
Enter Vorta
At the heart of all this is Myntra's in-house AI platform Vorta — the goddess of the future in Greek mythology.
How does Vorta work? The short answer is this: It ingests all of Myntra's sales data, everything about the items it sells. Colours. Fabrics. Collar types. Sleeve types. Everything. It also takes in and processes a lot of publicly available imagery: everything from red-carpet fashion to street fashion shared by regular folk on Instagram, Facebook, Pinterest, and so on.
The result: "The designer [no longer needs to] solely rely on their gut feel to come up with new design concepts," says Venugopal.
In tech terms, Myntra uses a neural network and a deep learning-based system called generative adversarial network (GAN). The GAN engine, based on the data ingested, generates designs that it thinks as being indistinguishable from human-generated designs.
It churns out approximately a few dozens every cycle — a process known as a "design drop". A design drop is done every 30 to 45 days. For instance, if Myntra is designing a T-shirt line for Moda Rapido in a particular design drop, it would churn out a couple of dozen designs.
At this stage, the engine has no idea whether these designs will be a top seller.
Which is where another machine-learning model, the "traditional curation model", comes in. This model scores all the designs on their potential probability. For example: If we do a colour block T-shirt with an open collar, could it become a top seller based on previous sales data and imagery?
"I put hundreds of those different types of T-shirts together, then I run them past the curator programme, and then it says there is a 70% chance that this will sell. Now, actually 70% is not a very good chance, because it will result in the same 30% wastage," Narayanan says.
"Therefore, I can't just do probability, I have to do best-seller-based probability. So, we say here are the best sellers, within the best sellers, there's a 70% chance, which means there's now 90%-95% chance that it will do well."
This final output is what is cleared for production, for which Myntra has manufacturing tie-ups.
Can Vorta become Myntra's AWS?
Vorta's internal success made it ask another 'why' question: Why can't it be made into an independent product with its own independent business model?
Thus began the process of pitching Vorta as a software-as-a-service (SaaS) platform for both Indian and global fashion companies.
The Vorta team is led by Rajesh Narkar, vice-president at Myntra, along with Anurag Pangamamula, senior director, Vorta, and Rohit Chouhan, director of product management at Myntra.
We started with T-shirts, dresses, we do jeans, we also do Indian kurtas. But we can do shoes, watches, caps. We can do anything. The machine doesn't care.
Myntra says Vorta has already attracted strong interest from large fashion brands. It has signed up a couple of global customers and a couple of Indian customers, all of whom have gone through three-four months of using the platform. These companies, Myntra says, are starting to have "real [design] drops that are selling well".
"We are saying, why can't we now take this global and do this across Europe, across North America? We're starting with Europe," says Narayanan. Vorta's pricing varies by customer. There's a small team of two-three people who have started to travel globally and sell Vorta to prospective clients.
Myntra is banking on Vorta's customisability as a key strength. "We built it as a platform, so it will scale to any country, any geography, any market, any currency. It can also get offline data feed, where we API-integrate it to a store's enterprise resource planning (ERP) systems. It doesn't only have to be online. It can be any data essentially," Narayanan adds.
Meanwhile, internally, Myntra is slowly scaling Vorta. First, by doing more and more article types. "We started with T-shirts, dresses, we do jeans, we also do Indian kurtas. But we can do shoes, watches, caps. We can do anything. The machine doesn't care," says Narayanan.
Next, with more and more geographies, the engine will get smarter, which will in turn feed into its global sales pitch, and help the company buy better for India.
"If something is working in Turkey, why not try it here," the CEO says. "It will make our own fashion business better. We can have less wastage than anybody else."
To amplify the focus on Vorta, the company is looking at building a centre of excellence, not far from its office in Garebhavipalya in Bengaluru. "It's like R&D specific to Vorta. Again, we may productise it and sell it to others," says Narayanan. "It's a global market."
Beyond Vorta — Myntra's AI-first gambit
Now, Myntra wants to bring AI to other critical aspects of the business. Most notably, in manufacturing and supply-chain management. The ultimate goal is to become an "AI-first fashion-technology company".
The company is scaling its AI team while investing in manufacturing-oriented cloud technologies. The team is now asking why the drop cycle cannot be shrunk from 45 days to 30 days to an ambitious seven days.
The hypothesis here is that it takes less than a minute (40 to 45 seconds) to manufacture a pair of denims, including the washing process, and with all things considered, seven days is plenty to manufacture, say, 100-125 pairs.
"What we see is, nobody has taken the basics of fabric and textile and garment manufacturing and applied a tech lens to it, the way we have done with design," says Narayanan. "People were designing for two years, now we are designing in a minute."
From a service standpoint, Myntra is deploying AI to forward-deploy its clothes — making the products or article types that it knows will sell well — ahead of big sales events. That also means optimising the delivery time to the customer.
With its bet on AI, Myntra is looking to improve delivery time of its products to customers.
"We have a problem. We actually want to be a profitable e-commerce company, which is a rarity, therefore costs matter to us," Narayanan says.
"To improve delivery speed, you can spend a lot of money, and airship everything everywhere. We prefer to do the latter. Our delivery times and our NPS (net promoter score) are the best in the industry."