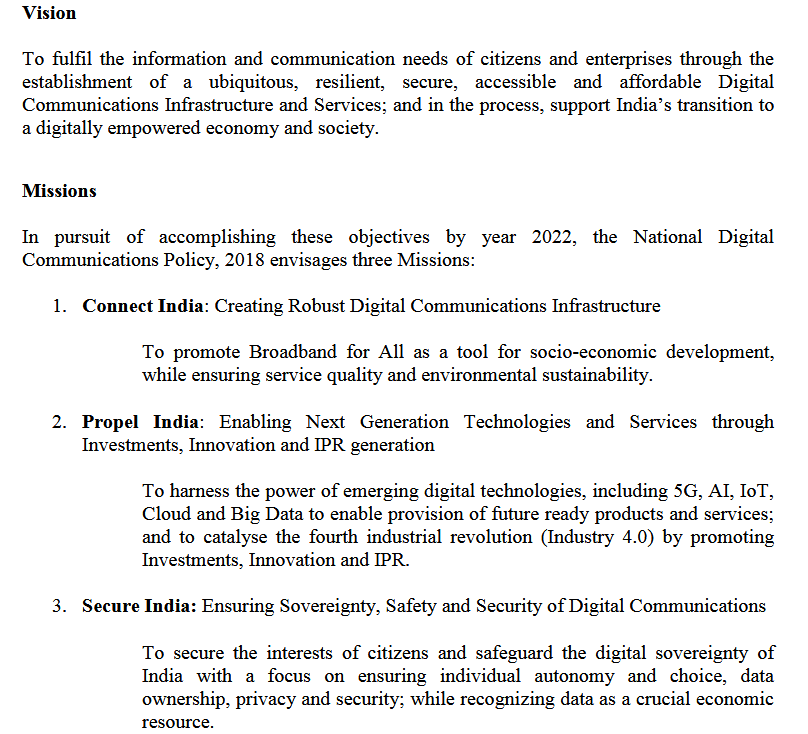 The cabinet on Wednesday approved India's new telecom policy, The National Digital Communications Policy 2018, that aims to achieve by 2022: Broadband for all, $100 billion investment in digital communication sector and 4 million additional jobs, among others.
A glance of what it envisions:
Some things new
A Rashtriya Broadband Abhiyan to provide universal broadband coverage at 50 Mbps to every citizen by 2022. This will be done through BharatNet (1 Gbps — upgradable to 10 Gbps — to gram panchayats), GramNet (10Mbps — upgradable to 100 Mbps — to all key rural development institutions), NagarNet (1 million public Wi-Fi Hotspots in cities) and JanWiFi (2 million Wi-Fi hotspots in rural area). These projects will be carried out through a public-private partnership model and financed through a public fund. (India had near 18 million fixed-line broadband users by the end of this March.)
The policy will accord telecom optic fibre the status of public utility (à la power). A National Fibre Grid (once again, à la Power Grid) will be established to, among other things, collaborate between the Centre, states and local bodies on fibre installation.
Some things change
Spectrum to be recognised as a key natural resource for public benefit. This could mean that spectrum need not always be auctioned if the requirement is greater good, i.e. affordable data to all.
The policy also calls for coordinating with the government departments for freeing underutilised/substitutable spectrum, and "its auctioning and/ or assignment" for efficient and productive use. (India's defence and railways department hold sizeable spectrum).
The Union Cabinet also cleared a proposal to convert GST Network (GSTN), which provides IT infrastructure for the new indirect tax regime, into a 100% government-owned company.
This is as per a report by the Economic Times.