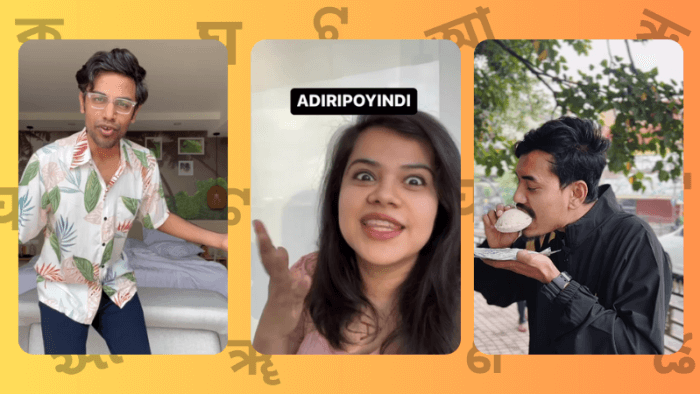 This Case Study explores how Google India made the internet speak and understand the minute nuances of different regional languages in the #SayItLikeItIs campaign and generated a reach of 19.2 Mn+. This is as per a report on social samosa. 
Category Introduction 
Technology has undoubtedly played a significant role in shaping the world we live in, and search engines are among the tools that have revolutionized the way we access and utilize information. From scientific breakthroughs to recipes from across the globe, one finds themselves holding a world of information at the tip of their fingers. As technology continues to evolve, search engines are also expanding their capabilities to offer new and innovative ways to access information through voice and visual search which are steadily gaining popularity.
Brand Introduction
As a country embracing its digital transformation –  it would be incomplete if linguistic barriers continue to be an entry barrier for many who access the internet to find jobs, avail of banking services, access information, etc. Google is actively working to improve the experience of Google products and services for Indian language users. The brand wanted to help deliver an even richer language experience to millions across India. By devoting time and effort to learning and understanding the nuances of the Indian language, Google aims at helping bridge this gap and enriching the linguistic experience for millions across the country. 
Summary 
Languages are one of the most unique, complex, and fascinating aspects of human culture, and India is a prime example of this. In India, it is common to know and use a minimum of two languages, often with added dialects that make communication even more complex.While humans are capable of translating most languages, certain words and phrases are truly unique to each language. For instance, an "ainwai" in Punjabi or an "arre" in Hindi cannot be directly translated into English, as they carry an emotional and cultural significance that is not easily translatable.
Mixing up these words can lead to amusing or even embarrassing situations, thus highlighting the importance of language nuances and the need for careful communication. Despite these challenges, the diversity of languages in India is where the heart and soul of the country lie. It is these nuances that make India a vibrant and exciting country to explore the complexities of language and communication, with each language and dialect carrying a unique emotion woven into the rich culture of the country. 
Brief
The objective was to identify, partner with and collaborate with a diverse group of influencers across India for #SayItLikeItIs campaign in relation to International Mother Language Day.  Through extensive research, the team identified and selected the most impactful, locally and culturally relevant influencers across various categories and worked closely with them to create engaging content that aligned with the campaign's message.
Objective 
International Mother Language Day is a globally recognized day celebrated annually on February 21st, declared by UNESCO. The primary purpose of this day is to promote the importance of cultural diversity and multilingualism worldwide. In line with this goal, the collaboration aimed to shed light on the vast capabilities of Google's products that support Indian languages and demonstrate the various ways in which they can be utilized to cross barriers and connect people from various linguistic and cultural backgrounds with ease. 
Creative Conception
Google's #SayItLikeItIs campaign for International Mother Language Day was implemented with the goal of creatively and effectively bringing their property to life through collaborations with diverse influencers throughout India. By carefully selecting and partnering with individuals from different categories, the campaign aimed to authentically showcase the essence of this property and inspire audiences across the nation.
The creative collaboration of GCN with GI for the #SayItLikeItIs campaign was a fantastic opportunity to showcase the intricacies of language and the power of technology. The campaign featured a series of comedy, informative and sketch-based reels, that was created in collaboration with comedians and content creators across India.
Through these sketches, the creators humorously highlighted the complexities of the Indian language and shared amusing anecdotes about how certain words and phrases are difficult to translate or explain to someone else. They also showed how  Google's language tools and products were able to understand these language nuances thus enabling Indians to communicate, search and learn a little more about their own language.
Challenges 
The challenge was identifying influencers from regions and ensuring that we equally champion languages from all corners of the country. To overcome this, a targeted approach was employed to actively seek out content creators and social media personalities from different parts of the country, who may not be as visible in our day-to-day online browsing.
The result – a campaign that highlighted languages from the scenic tips of the South to the colour-filled North. 
Execution 
Conceptualized by OML Entertainment, the campaign planning involved several key steps to ensure the smooth execution and success of the #SayItLikeItIs initiative.
Step 1 involved scouting the creator landscape to identify and curate a diverse list of content creators from various genres, representing the length and breadth of the country, and who were culturally and locally relevant. 
In Step 2, the brand reached out to these creators and briefed them on the exciting concept of the campaign. They ensured that the creators were on board and understood the significance of International Mother Language Day, even if they were not accustomed to creating regional content.
View this post on Instagram
View this post on Instagram
Step 3 involved strategically charting out the release of the content throughout the campaign, ensuring timely and consistent releases that represented as many Indian language communities as possible during this topical moment
Step 4 focused on ensuring that Google's brand message seamlessly integrates with the conversation, allowing the brand to show up as an enabler of the campaign objectives.

Devarshi Shah – Senior Vice President & Business head at OML Entertainment, was quoted speaking, "Our partnership with Google India for the #SayItLikeItIs campaign underscores our dedication to inclusivity in the online space. By elevating local content creators and breaking language barriers, we aim to showcase India's cultural richness and promote multilingual communication. Through this campaign, we empower users to access information in their own language, fostering a diverse and vibrant online community.
Results
On Instagram: 
Total Reach: 19200000+
Impressions: 21010000+
Likes: 1536000+
Comments: 10700+