Housing.com's campaign 'Parr .. se Perfect' encouraged consumers to keep searching for houses until they find their perfect one; garnering 689 million impressions across platforms.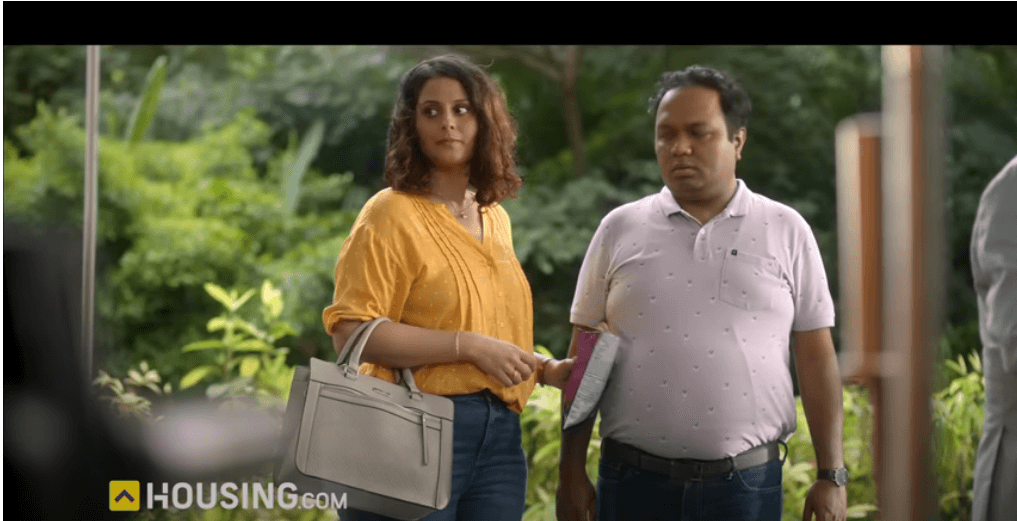 Housing.com's 'Parr..se Perfect' campaign aimed to connect with consumers on a deeper level. 
Category Introduction
The real estate industry is a significant contributor to India's economy and is expected to continue its growth trajectory in the coming years. By 2030 the market size of the sector is predicted to reach US$1 trillion, up from US$200 billion in 2021. It is also expected to contribute 13% to the country's GDP by 2025. In addition to traditional real estate, retail, hospitality, and commercial real estate are also growing rapidly, providing essential infrastructure to meet India's expanding needs.
The pandemic-induced digitization has given a significant boost to digital real estate in India. The decline in data costs has led to a rapid increase in internet and smartphone penetration, resulting in more people participating in the digital economy, including buying and selling online. As a result, more classified advertising dollars are being spent online. The revenue generated from digital classified advertising in the real estate sector is expected to increase to US$200 million by 2025, up from the current market value of US$130 million.
Brand Introduction 
Founded in 2012 and acquired by REA India in 2017, Housing.com is India's leading full-stack prop-tech platform for homeowners/home seekers, landlords, developers, and real estate agents. The company offers listings for new homes, resale homes, rentals, plots, commercial spaces, co-living spaces and adjacency services in prime realty markets of India.

Housing.com usually does 360-marketing campaigns and they optimize their media mix between digital avenues like OTT, YouTube, social media & Television. For the last two years, the brand has seen a shift in consumer preferences from a media consumption standpoint. The TG is shifting from watching television to consuming content on digital mediums, hence, the contribution of OTT, YouTube & social media is increasing.  
Summary
Housing.com's 'Parr.. Se Perfect' campaign acknowledges that home buyers/renters or homeowners could end up not making a final decision to rent, buy or sell for reasons that could be very distinctive and personal.
In this industry, consumer involvement is typically high, which means that at every stage of the home-buying, renting, and selling process, customers are often bombarded with doubts, questions, and reservations.
Objective 
Buying a dream home at times becomes a dream only. Despite devoting a lot of time and money, usually people end up settling for a home less than perfect for their needs due to a lack of options. Usually, consumers tend to ignore the little doubts that can bother them later.
With this ad campaign, Housing.com encourages consumers to keep searching until they find their perfect choice of home or tenant/buyer. The campaign highlights how Housing.com welcomes and celebrates every question or concern that customers may have and address those queries.
With 40 crore investment on the campaign in 12 months across platforms, the target was to reach over 100 million impressions.
Brief
The brief given to the agency was to leverage the strong insight that the brand has and create a memorable and impactful campaign in line with their tonality that not only increases awareness of housing.com but also drives preference for the brand.
Creative Idea 
In their quest to simplify the home-buying, renting, and selling journey, with this new campaign, the company acknowledges that home buyers/renters or homeowners could end up not making a final decision to rent, buy or sell for reasons that could be very distinctive and personal.
Featuring various artists, the Housing.com ad campaign showcases the real estate company's basic principle of providing the maximum choices for homebuyers, Owners, and tenants, with a clever word-play on the Hindi word Parr (which means "but", referring to the many doubts that arise in the minds of anyone dealing with the question of property sale and purchase) in its slogan Parr… se Perfect. Witty, humorous, and pithy, each ad film represents modern-day people, with their new-age requirements and expectations, and how the real estate company is committed to accommodating expectations they might have from their ideal home. 
Execution 
The 'Parr.. Se Perfect' campaign was executed across social media channels including Twitter, Facebook and Instagram.
Apart from taking the digital route, the brand had a good presence on Television as well. The campaign films were present across impact shows like Kapil Sharma Show, Kaun Banega Crorepati, Khatron Ke Khiladi, Indian Idol, Superstar Singer, and Jhalak Dikhla Jaa also featured at high frequency across both Hindi & English news channels
Housing.com's campaign was featured across live cricket and high-impact properties like the T20 World Cup, Asia Cup,  India Vs Australia series, shark tank season 2, India vs South Africa, India vs Sri Lanka & YouTube. 
Results
Duration                     Channel          Impressions (in millions)     Cumulative Reach (in millions)
TV                              39                                13
YouTube                     110                              15
Social Media              17                                17
Hotstar
(Asia cup, Ind Vs Aus
and Ind Vs SA)           20                                6
Hotstar T20 WC           30                                4
TV – JFM                   93                                19
Hotstar Ind vs Aus       310                              25
Ind vs SL         12                                2
Ind Vs Nz        12                                2
SonyLiv          Shark Tank   
46                                3
Total                          689                              106
Snehil Gautam, Chief Growth and Marketing Officer, Housing.com said "Through our ad campaign, we successfully sent across a message to our audience that it is okay to have doubts when it comes to buying, selling or renting a home. We all have doubts and we shouldn't bury them. At Housing.com we are celebrating even the smallest of doubts as we are committed to providing maximum property options to home seekers and maximum customers to sellers and landlords."
Source: Social Samosa



In this article