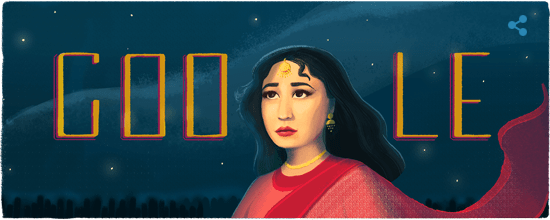 Today Google has dedicated a special doodle to legendary actress Meena Kumari who was born on August 1, 1933.
Meena Kumari was just 38 when she died of liver failure, weeks after the release of the movie "Pakeezah". In today's Google Doodle, she is remembered as a courtesan, the role she played in "Pakeezah".
She was called the 'Tragedy Queen'. She was also called the female Guru Dutt and Cindarella of Indian films.
Meena Kumari was born on August 1, 1933, to Ali Baksh and Iqbal Begum, as Mahjabeen Bano. Born in a family of theatre artistes, she faced a poverty-stricken childhood. She was just six years old when she made her debut in "Farzand-e-Watan or the Leather Face", produced and directed by Vijay Bhatt.
And why Tragedy Queen? The actress' portrayal of strong yet vulnerable characters connected with her audience. With her expressive eyes and beautiful face, Meena successfully brought the pain and complexity of her characters with much ease.
The legendary actress has given Hindi Cinema a new dimension with films like Pakeezah, Dil Ek Mandir, Sahib Bibi Aur Ghulam, Parineeta, Mere Apne among others.
Meena Kumari was not just a talented actress but a poetess too. She wrote under the pseudonym "Naaz". "Tanha Chand", a collection of her poems was published after her death in 1972. The book was compiled by famous writer Gulzar.
In the album "I write, I recite", one can listen to Meena Kumari recite her poems.
Interestingly, Meena Kumari is the only Indian actress to have won three Filmfare nominations for the "Best Actress" category in the same year. This was in the year 1963 when she was nominated for her performances in "Sahib Biwi Aur Ghulam", "Main Chup Rahoongi" and "Aarti".
In this article