Google has celebrated the life and works of acting maestro Sivaji Ganesan on his 92nd birth anniversary with a doodle. One of the most respected names in the Tamil film industry, he was conferred upon the highest honour for cinema, the Dadasaheb Phalke Award, in 1997.
Chinnaiya Manrayar Ganesamoorthy, better known by his stage name Sivaji Ganesan, (1 October 1928 – 21 July 2001) was an Indian actor and producer. He was active in Tamil cinema during the latter half of the 20th century. He was known for his versatility and the variety of roles he depicted on screen, which gave him also the Tamil nickname Nadigar Thilagam (transl. the pride of actors). In a career that spanned close to five decades, he had acted 288 films in Tamil, Telugu, Kannada, Malayalam and Hindi.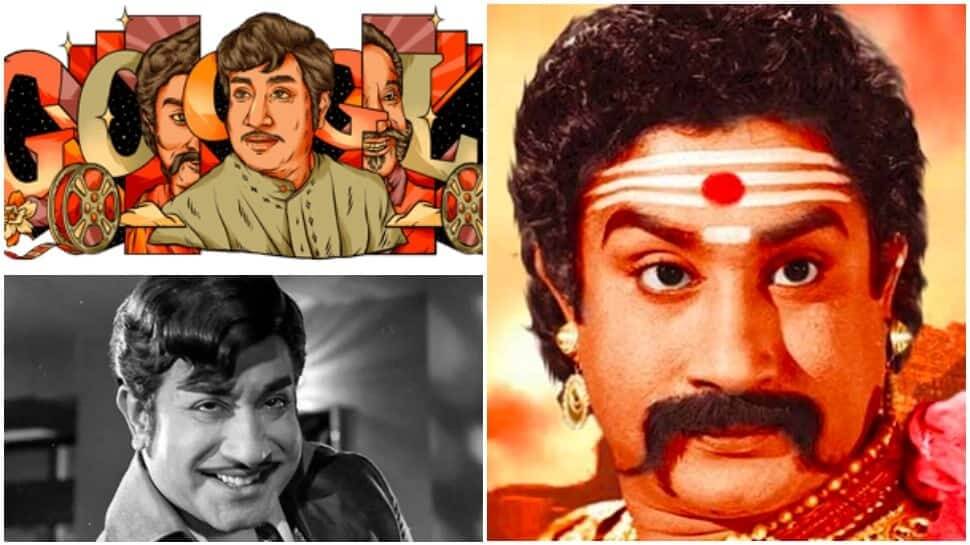 At the age of 10, he moved to Tiruchirappalli from his birth place and joined a drama troupe. He then began to perform in stage plays. From the drama troupe trainers, he was fortunate enough to learn acting and dancing. He was trained in Bharatanatyam, Kathak and Manipuri dance forms.
Ganesan exhibited the ability to remember lengthy lines easily. The group favoured Ganesan to play the lead and he would continue to do so. His portrayal of Shivaji in the stage play Shivaji Kanda Hindu Rajyam earned him the monicker "Sivaji", which was conferred on him at a public function presided over by social reformer E. V. Ramasamy. Since then, he was referred to by the name of "Sivaji".
Ganesan was the first Indian film actor to win a "Best Actor" award in an International film festival, the Afro-Asian Film Festival held in Cairo, Egypt in 1960. Many leading South Indian film actors have stated that their acting was influenced by Ganesan. In addition, he received four Filmfare Awards South and a National Film Award (Special Jury). In 1997, Ganesan was conferred the Dadasaheb Phalke Award, the highest honour for films in India. He was also the first Indian actor to be made a Chevalier of the Ordre des Arts et des Lettres.
Ganesan is remembered as an iconic figure of Tamil cinema. Upon his death, The Los Angeles Times described him as "the Marlon Brando of south India's film industry".
Ganesan made his acting debut in the 1952 Tamil film Parasakthi, which was directed by the Krishnan–Panju duo and co-starred actress Pandari Bai. M.Karunanidhi recommended him for the lead role in Parasakthi to the producer, which was supposed to be portrayed by K R Ramasamy.. The script was written by later Chief Minister of Tamil Nadu, M. Karunanidhi. Since actors who are well-trained in classical dance can effectively showcase expressions called Nava Rasa on their faces, Ganesan went on to become one of the popular actors in Tamil cinema in the 1950s. His unique voice had a greater appeal. His style of dialogue delivery with a long spell of dialogues — like a poetry recitation with much clarity — earned him critical recognition.
Source: Zee News, Wikipedia
In this article