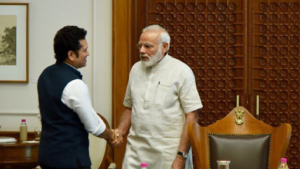 According to reports, Prime Minister Narendra Modi and cricket legend Sachin Tendulkar have become the most talked about parliamentarians on Facebook in 2017. This is as per the information released by Facebook with regards to the popularity of Members of parliament, pages of Apex authorities, Ministries, Armed forces etc. on the social media platform.
The ranking was based on total interactions including reactions, shares and comments for the period 1st January 2017 to 31st December 2017.
According to the data our Prime Minister is the most talked about member from Lok Sabha, while Sachin Tendulkar, the most popular member from Rajya Sabha.
Others top ranking members of Lok Sabha following Prime Minister Narendra Modi were Asaduddin Owaisi and Bhagwant Mann.
R.K. Sinha and Amit Shah were among other prominent Rajya Sabha members on the social media network next to Sachin.
Among apex bodies, PMO India was most popular on Facebook followed by President Ram Nath Kovind and Niti Aayog. As per the data PMO India has 13.74 million followers and 13.82 million likes on its Facebook Page. President Ram Nath Kovind, on the other hand, had 4.88 million followers and 4.9 million likes on his page.
The Ministry of External Affairs, Ministry of Information & Broadcasting and Ministry of Railway were the top 3 most popular Ministries.
Government initiatives – MyGov India, Digital India and Make in India were the most popular Central run initiatives.