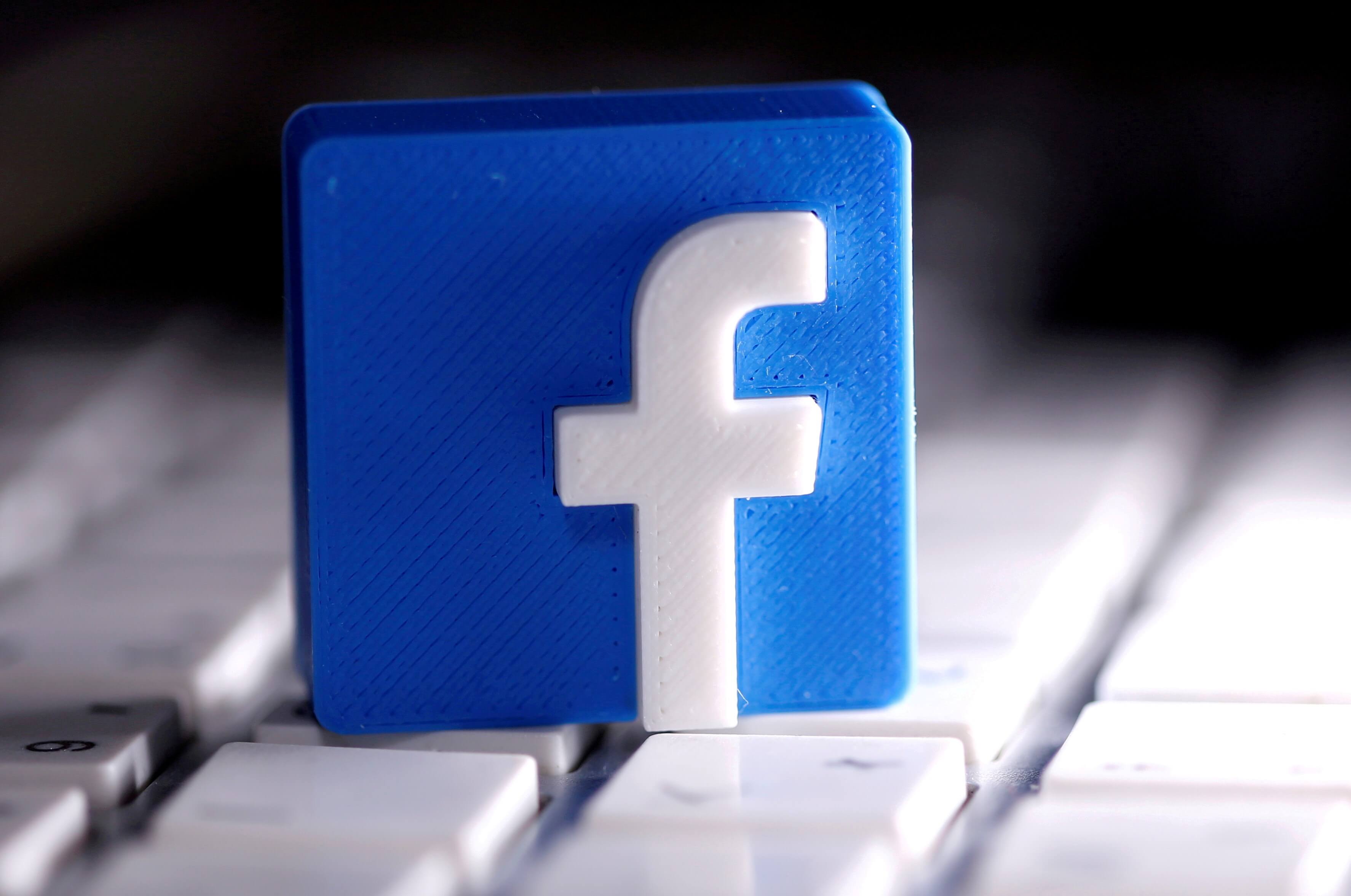 Source: Reuters
Facebook wants to change its name to focus on metaverse. 
Twitterati ask 'did it work for Kanye . The social media giant plans to unveil a new name that will focus on its efforts at building the metaverse. 
Facebook Chief Executive Mark Zuckerberg has been talking up the metaverse, a  digital world where people can move between different devices and communicate in a virtual environment, since July and the company has invested heavily in virtual reality and augmented reality, developing hardware such as its Oculus VR headsets and working on AR glasses and wristband technologies.
The buzzy word, first coined in a dystopian novel three decades earlier, is popular in Silicon Valley and has been referenced by other tech firms such as Microsoft. The popular children's game Roblox describes itself as a metaverse company. Epic Games' Fortnite is also considered to be part of the metaverse The rebranding will most likely bring Facebook – the social media platform – under a parent company, just like Instagram and WhatsApp. 
The tech giant is aiming at an Alphabet Inc.-like holding company for its family of apps.
According to a report in The Verge, Zuckerberg may unveil this change at the  company's annual Connect conference on October 28. As the news broke, Twitterati, as always, had their share of say on the Development.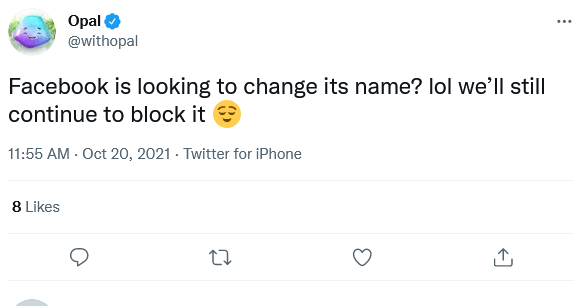 The official handle of the Opal app, that helps people track their screen time, said name change or not they would continue to block Facebook.
A user Jen Dudley-Nicholson, who is the national technology editor for News Corp as per her Twitter bio,drew a comparison with Kanye changing his name to 'Ye' and wondered whether it actually worked for him.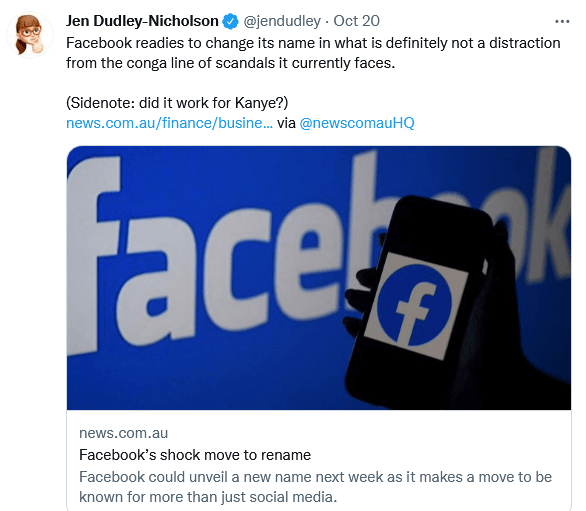 There was also a suggestion for a change of name for Mark Zuckerberg. "Hi, I'm Mark Zuckerbaum," a user tweeted.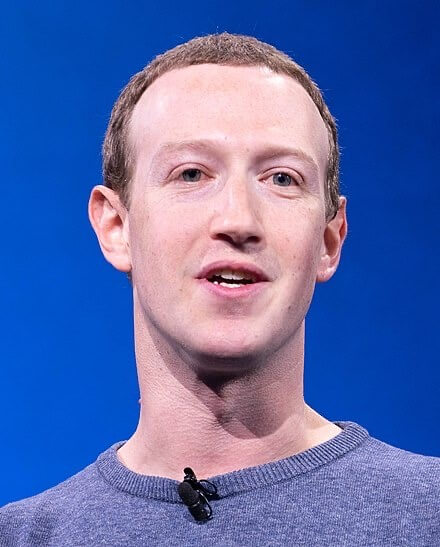 The user also suggested that Facebook go the Kanye way and change its name to 'Ye'.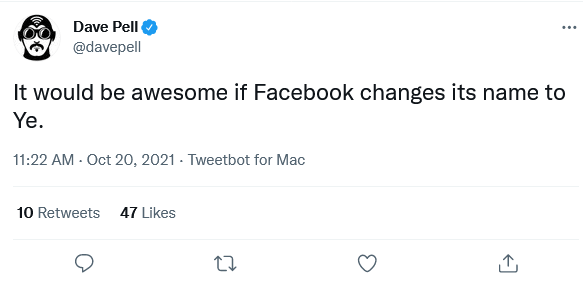 Another user Scott Hanselman said he is prepared for Twitter exploding with memes once the new name is announced.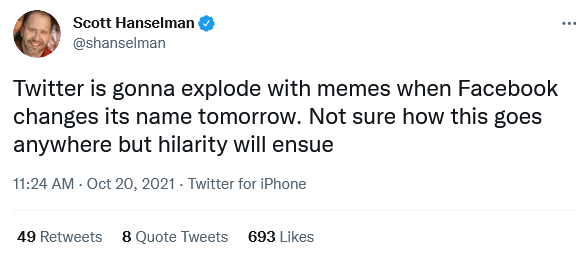 A user Ina Fried, whose Twitter bio reads Chief Technology Correspondent for Axios, tweeted, "Dear Facebook: We've received your request to change your name. However, due to our real names policy, you will first need to fax us a copy of your court order and new driver's license…."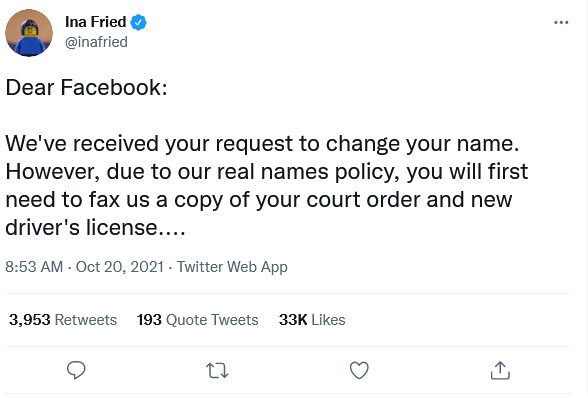 The move comes at a time when Facebook is under wide-ranging scrutiny from global lawmakers and regulators over its content moderation practices and harms linked to its platforms, with internal documents leaked by a whistleblower forming the basis for a U.S. Senate hearing last week.
Source: The Economic Times, Twitter



In this article