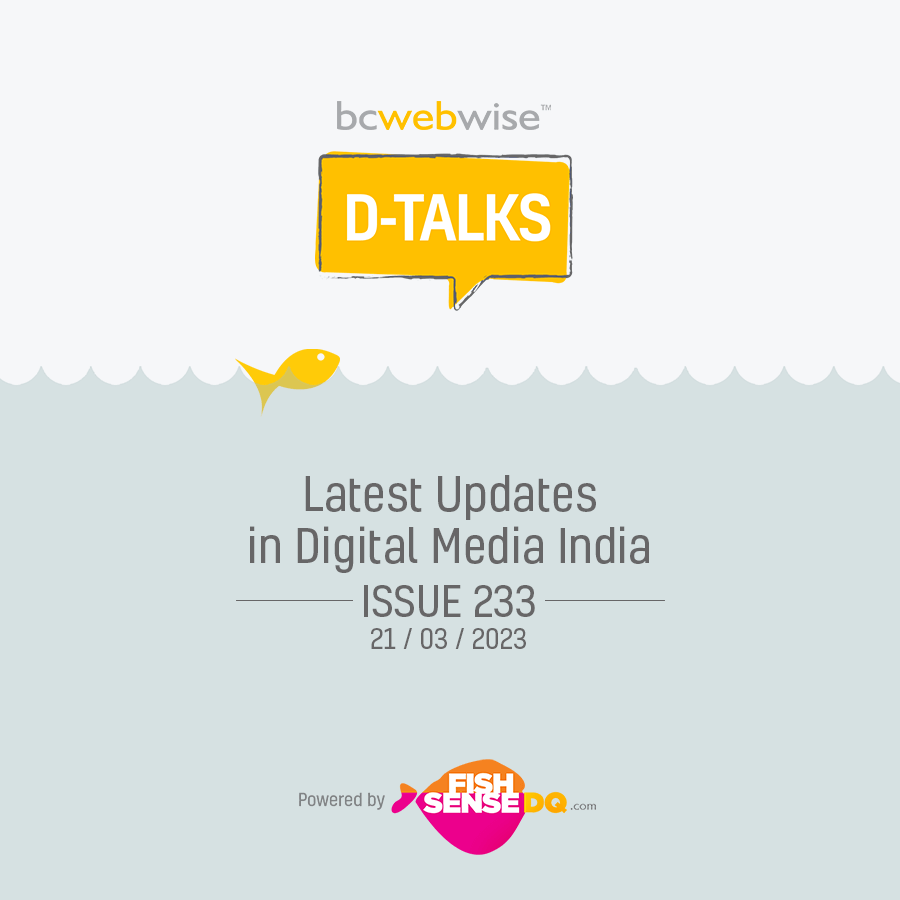 New AI features are coming to Google Docs, Gmail, and more; here's how to use
Google is introducing its AI-powered writing features in its Workspace to trusted testers. Users will be able to generate text directly on Docs and Gmail and across its other apps including Slides, Sheets, Meet, and Chat. In a blog, the platform mentioned that generative AI experiences will be tested throughout the year before making them available publicly. 
Google AI updates will help users to:
Draft, reply, summarize, and prioritize Gmail
Brainstorm, proofread, write, and rewrite in Docs.
Bring creative vision to life with auto-generated images, audio, and video in Slides.
Go from raw data to insights and analysis via auto-completion, formula generation, and contextual categorization in Sheets.
Generate new backgrounds and capture notes in Meet.
Enable workflows for getting things done in Chat.
How Myntra is planning to democratize beauty using tech
The beauty business in India is expected to reach $25-26 BN by 2025 and out of this $6-7 BN is going to come from eCommerce, according to Nandita Sinha, CEO of Myntra. The biggest driver is technology. Add to this are D2c brands. Myntra is using technology to democratize beauty and the next wave will come from online experience. The company is using its assisted tools like product finder, skin analyzer, free gift finder and virtual try-on. Apart from this, social commerce is also helping Myntra. Myntra Live or M-Live is its live commerce platform, where it holds live sessions every hour. It has held 8000+ live sessions so far.  Myntra Studio has 2000 plus influencers who create content for various brands so far.  Says Nandita Sinha "It is part of the shopping funnel and end-to-end journey of the consumer, where they are exposed to different looks that are created by influencers and brands. Tier II and beyond customers are growing significantly. " At present Myntra has 200 plus D2C brands and they want to scale them up and reach the masses.
Will GPT-4 make machines think like humans?
It's the most advanced language model for artificial intelligence (AI). Geoffrey Hinton, the godfather of deep learning, tweeted, "Like caterpillars extract nutrients which are then converted into butterflies,  People have extracted billions of nuggets of understanding and GPT-4 is humanity's butterfly." GPT-4 can handle both text and images, unlike GPT-3 (text only). It also scores over ChatGPT. "GPT-4 can apply to Stanford as a student now. AI's reasoning ability is OFF THE CHARTS…." said Jim Fan, an AI scientist at Nvidia. For now, though, only ChatGPT Plus subscribers have GPT-4 access. GPT-4 passed a simulated bar exam with a score around the top 10% of test takers. GPT-3.5 (which was used to build ChatGPT) scored at the bottom 10%. It's also more reliable, creative and able to handle much more nuanced instructions. It surpasses ChatGPT in advanced reasoning capabilities. In 24 out of 26 languages tested, GPT-4 did better in English than GPT-3.5 and other large language models (Chinchilla, PaLM), according to OpenAI. GPT-4 is also 82% less likely to respond to requests for disallowed content and 40% more likely to produce factual responses than GPT-3.5, claims OpenAI. BeMyEyes, an app that deals in vision, has developed a GPT-4-powered 'Virtual Volunteer' for its blind and low-vision users. Morgan Stanley is using GPT-4 to help wealth management. Khan Academy has tapped it as a customized tutor. Iceland is training GPT-4 on Icelandic grammar. Kissan GPT, a chatbot, plans to enhance its play with GPT-4. OpenAI acknowledges that GPT-4 has similar limitations to earlier GPT models and is still not fully reliable because it "hallucinates" (responds confidently with fabricated answers) and makes reasoning errors. GPT-4 also lacks knowledge of current events since it has trained on data only till September 2021. Many speculated that GPT-4 would bring humanity closer to 'singularity'—a hypothetical point in time when artificial general intelligence (AGI) will impart human intelligence to machines. Much of this hype stemmed from the belief that GPT-4 would be released with 100 trillion parameters—that's 500x larger than GPT-3. But OpenAI gave no such indication. In fact, OpenAI CEO Sam Altman had tweeted earlier: "We don't have an AGI, and people… (are) begging to be disappointed".
OpenAI Rolling Out GPT-4 AI Model
OpenAI may soon launch the next generation of its large language model (LLM), GPT-4, which could generate AI-powered videos and other forms of content. Microsoft Germany's CTO Andreas Braun revealed in an interview that GPT-4 will be launched next week, adding that it will have multimodal models with capabilities to respond to user queries in the form of music, video, and images. This makes GPT-4 different from its predecessor, ChatGPT, which can only answer user queries through text, according to reports. Aside from its multimodal abilities, GPT-4 is expected to be more human-like in its responses and provide answers faster than ChatGPT. OpenAI is also reportedly developing a mobile app that will use GPT-4. Currently, ChatGPT is only available as a web-based language model. It is said that GPT-4 could be used in Bing chat, although neither Microsoft nor OpenAI has confirmed this. Bing search currently uses GPT-3 and GPT-3.5, as well as proprietary technology called Prometheus, to provide real-time answers.
700m+ Active internnet Users in India as of Dec 2022
India had 700 MN or more active Internet users aged 2 years and older as of December 2022, according to Nielsen's India Internet Report 2023. Rural India had 425 MN registered internet users, which was almost 44% higher than in urban areas, said the report, adding that urban India had 295 MN active internet users. The study also revealed there is a lot of room for growth in rural markets, as nearly half of the rural population is still not actively using the internet. The active internet user base aged 12 years and older has grown more than 20% year-on-year to reach 595 MN in 2022. The report said that rural outshone urban areas with a growth of 30% in the number of active internet users. Urban India, on the other hand, grew 10%. Further, female users grew by 27%, whereas male users increased by around 18%. From a pop-strata point of view, the lowest pop-strata of below 100,000 towns and rural areas were the highest growth drivers. The study further highlighted that nearly 90% of internet users were daily users. The gap between urban and rural also narrowed compared to the previous year, with 93% of urban and 86% of rural daily users using the internet daily. There were 450+ MN smartphone users in the country, with a little more than one-third of Indians owning a smartphone. As per the study, there were 450+ MN monthly video watchers in India, with video watching and video calling being the top two online activities amongst those aged 12 and older. Even though online banking and digital payments grew by a huge 43%, the study found that they still have a lot of room to grow. Another key finding from the study was that nearly one out of five Indians watch digital news now, which saw a 20% growth over the past year. Digital news as a category also has a lot of room to grow, it added.
Rise in the average value of a card, internet banking fraud
The value of the average banking fraud involving cards and internet banking was up 8.5 * to Rs 34,802 in 2021-22 (FY22), even as the number of such instances declined year-on-year. There were 65,045 such instances of fraud in FY22, according to data released in the Lok Sabha (LS). The total value involved was Rs 226.4 crore. The data covered fraud in scheduled commercial banks for automated teller machines (ATMs) and other kinds of cards, besides transactions covered under the category 'card/internet-ATM/debit cards, credit cards, and internet banking'. By comparison, there were 70,655 instances in 2020-21 (FY21), according to the LS data. The overall amount remained nearly the same at Rs 226.6 crore, which caused the average amount to increase. Cases of ATM fraud seem to be concentrated in some states more than others. Data found that just five states in India make up nearly three-fourths of all card fraud cases in the country. Maharashtra, which continues to have a high instance of such cases, reported 26,085 cases in FY22 amounting to Rs 74.62 crore, or Rs 28,606 for each case on average. The state accounted for 40% of all fraud cases in the country. By comparison, Delhi, which reported 8,075 cases to the tune of Rs 24.35 crore, accounted for 12.4% of such fraud cases.
Google unveils 'magic wand' for emails and documents
Alphabet's Google unveiled a flurry of artificial intelligence (AI) tools for its email, collaboration and cloud software, taking aim at Microsoft days before its rival is expected to make a similar announcement. In a replay of last month's duelling chatbot launches by the tech giants, Alphabet touted a "magic wand" for its popular Google Docs software that can draft a marketing blog, training plan or other text, then revise its tone at users' discretion, a company official demonstrated to reporters. Microsoft, meanwhile, has teased a Thursday event about how it is "reinventing productivity with AI," which is expected to showcase its competing Word processor. Alphabet also said its AI will be able to summarize message threads in Gmail, craft slide presentations, personalize customer outreach and take meeting notes as part of its upgrade to Google Workspace, a product suite with billions of users on free and paid accounts.
New app rules to hit phone makers' revenues in India
India plans to force smartphone makers to allow removal of pre-installed apps and mandate screening of major operating system updates under proposed new security rules, according to two people familiar with the matter and government documents. The new rules, details of which have not been previously reported, could extend launch timelines in the world's No.2 smartphone market and lead to losses in business from pre-installed apps for players including Samsung, Xiaomi, Vivo, and Apple. The IT ministry is considering these new rules amid concerns about spying and abuse of user data. "Re-installed apps can be a weak security point and we want to ensure no foreign nations, including China, are exploiting it. It's a matter of national security. India has ramped up scrutiny of Chinese businesses since a 2020 border clash between the neighbours, banning more than 300 Chinese apps, including TikTok. It has also intensified scrutiny of investments by Chinese firms. Globally too, many nations have imposed restrictions on the use of technology from Chinese firms like Huawei and Hikvision on fears Beijing could use them to spy on foreign citizens. Currently, most smartphones come with pre-installed apps that cannot be deleted, such as Chinese smartphone maker Xiaomi's app store GetApps, Samsung's payment app Samsung Pay mini and iPhone maker Apple's browser Safari. Under the new rules, smartphone makers will have to provide an uninstall option and new models will be checked for compliance by a lab authorized by the Bureau of Indian Standards agency. The government has decided to give smartphone makers a year to comply once the rule comes into effect, the date for which has not been fixed yet. India's fast-growing smartphone market is dominated by Chinese players, with Xiaomi and BBK Electronics' Vivo and Oppo accounting for almost half of all sales. South Korea's Samsung has a 20% share and Apple has 3%. An industry executive said some pre-installed apps like the camera are critical to user experience and the government must make a distinction between these and non-essential ones when imposing screening rules.
ALT Realtech Opens Digital Real Estate Exchange
Bengaluru-based fintech startup ALT Realtech has launched the world's first digital real estate exchange, ALT DRX, allowing investors to buy one sq ft of real estate at a time. The startup, with an India-first launch strategy, has raised $1.6 MN in equity and $2 MN in callable mezzanine debt for co-investing in real estate assets during its seed round. ALT DRX's seed round saw investor participation from one of India's top law firms, renowned family offices, successful startup founders, and senior professionals from MNCs. ALT DRX will allow owners to dematerialise their real estate ownership into tokenized, traceable digital assets.
Bing's AI Will Let You Share Chat Responses
Microsoft has introduced a new feature which allows users to share AI-powered Bing chat responses with others using a persistent link. "Some of you may have noticed you've received accelerated access into the new Bing preview as part of onboarding tests we're running," the firm said in a  blogpost. "Users on Edge v111.0.1661.41 and newer will now see the new Bing icon in the sidebar which includes Chat and Compose experiences designed for Bing chat." These experiences will appear to users who have access to the new Bing preview. Earlier, new Bing experiences in the sidebar were only available in the Edge Dev browser version. The firm is also testing an optimisation in the "Balanced" mode which improves performance, resulting in shorter but much faster responses. 
Consumption of lock screen content by Indians is up 35%
Consumption of lock screen content by Indians increased by 35 percent, according to the InMobi Mobile Marketing Handbook 2023. Shopping, gaming, discovering content, and staying connected on mobiles grew multifold, and stayed strong throughout 2022. This resulted in brands finding new ways to create meaningful mobile experiences for their audiences, as consumers constantly sought such experiences. Today, users look at their screens 50 times a day.
Telangana is 2nd next only to Kerala in internet subscriptions
At 83 subscribers for every 100 residents, Telangana is second only to Kerala (87) in internet penetration in states in the country. Overall, internet reach in India stands at 67 for every 100 people. According to data released recently by the Union government, only four states have more than 80 subscribers per 100 people. After Kerala and Telangana, Punjab and Himachal Pradesh also have 83 internet subscribers for every 100 residents. The number stands at 67 for neighbouring Andhra Pradesh. Among the states, Bihar (37) is at the bottom. National capital New Delhi (taken as a city) is an exception with more than 202 internet subscribers for every 100 people. The internet subscription details include both wireless and wired connections (landline and mobile internet), according to the report of the technical group on population projections for India and states 2011-2036. Teledensity is one of the sub parameters used to assess the progress of states and countries towards achieving sustainable development goals (SDG). As per the report, Telangana has 11.5 MN rural subscribers compared to 20 MN urban ones. While urban areas are saturated with 110 internet connections per 100 population, rural areas are still lagging at 57. Telangana officials said that the rapid expansion of the internet in the state is the result of a very smooth policy for granting permissions to build mobile networks, including towers. The state's 5G rollout will also be relatively easy, they said. "The ease of doing business and other frameworks we created assisted the state in having quick access to mobile networks," said Jayesh Ranjan, principal secretary of the IT department. Also, in line with the high number of internet subscribers, women in Telangana rank among the top five in the country in terms of owning and using a mobile phone exclusively for their own needs.



In this article