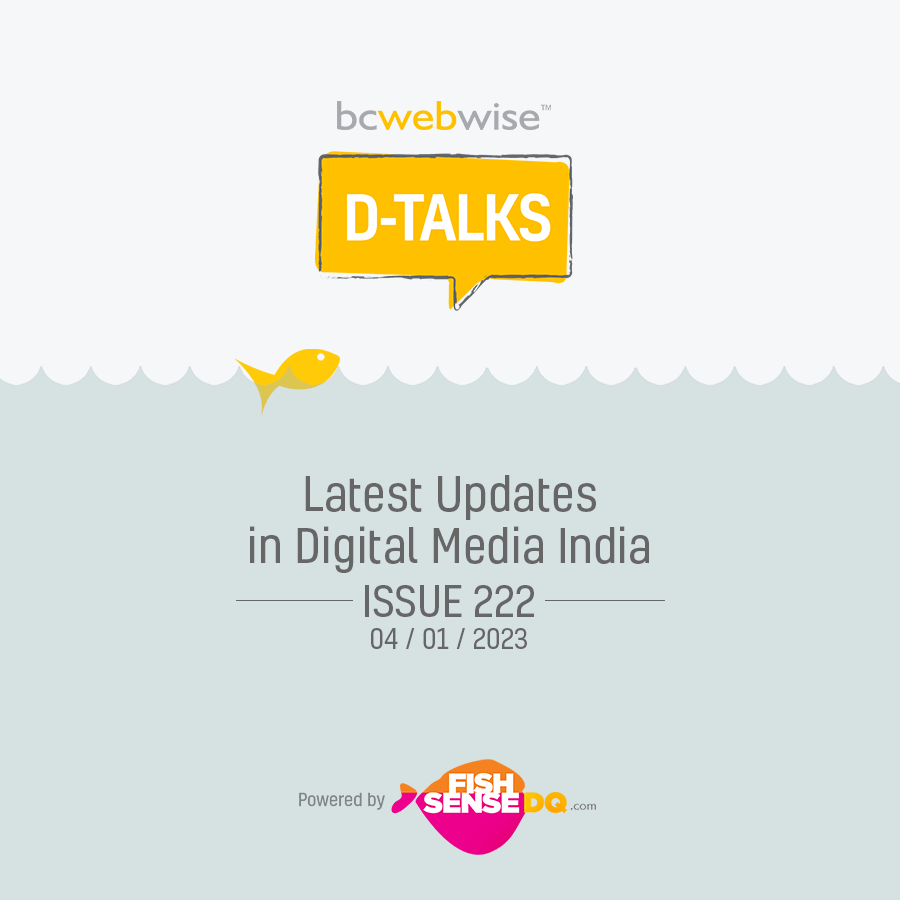 HUL of the future will be a web of intelligent ecosystems: Sanjiv Mehta
Finance Minister Nirmala Sithraman's budget speech of 2022 stated that the presence of technology and the need for mainstreaming was evident.  The 'Reimagine HUL' strategy articulated that technology is a key enabler at HUL to build an 'Intelligent Enterprise' which is a non-linear ecosystem to create structural capabilities for customers. 
From IT rule tweaks to Thanos' snap at Twitter, social media hits reset in 2022
The year 2022 gave users and platforms new ways to reward creativity and pay the creators. Elon Musk amended rules for digital platforms. Meta said that it will cut 13% of its workforce. Apps such as Tumblr launched a tip jar feature and YouTube announced new pathways. Government mooted a new data privacy law. 
Amazon is reportedly working on standalone app for sports content
Amazon CEO Andy Jassy said live sports content was one area where Amazon plans to keep spending money. A separate app for sports content could help to simplify the Prime Video interface. The Information wasn't aware when Amazon will release the standalone app or will it charge separately for Prime Video's sports content. 
DTH firms turn to OTT aggregation to stem user churn
Cable television and direct-to-home (DTH) companies have turned to aggregating OTT apps in order to reduce customer churn, after the strategy of bundling linear TV channels for years. Tata Play and Dish TV are among the first movers in the TV distribution industry to launch OTT bundles, while the latest player to join the bandwagon is cable TV major GTPL Hathway. GTPL Hathway has launched the 'Genie+' service in partnership with 15 OTT apps. "The reality is that linear TV is on a decline and customers are moving to OTT.  Aggregating OTT will help traditional platforms to retain customers and diversify their service offerings," said Anuj Gandhi, founder of media tech startup Plug and Play Entertainment.
Tatas bring all ecommerce ventures under digital business
As part of efforts to further push its presence in ecommerce, the Tata Group is reportedly transferring the holding of Tata UniStore to Tata Digital. Tata UniStore owns and runs the fashion and luxury-focused ecommerce platform Tata Cliq. With this, Tata Digital will become the sole entity for all online shopping ventures of the Tatas, including Tata Neu, Big Basket and Croma. Tata Industries and Trent were the joint owners of Tata UniStore, in which the former owned 96.78 percent and the latter controlled the balance stake. The Tata Group has been looking to bring scalable e-commerce entities under one umbrella for the past two years. These developments are seen as a part of holding company Tata Sons' strategy of merging similar businesses in various Tata group companies to tap synergies, cut costs and focus on building scale and competitive advantage, reports suggest.
Top digital payment trends to watch out for in 2023
Delivering affordability to shoppers
With rising inflation, consumers are constantly looking for smarter ways of checking out items from their wish list. Buy Now Pay Later (BNPL) has emerged as one viable alternative for anyone looking to not pay in lump sum but make installment payments in equated parts of typically 3, 6, 9, 12 months. Consumers are preferring the digital pay later alternatives over the cumbersome paper-based short-term financing models available at stores.
Greater collaboration between Banks and Fintechs
It took a while to come but technology is finally a major focus area for banks in India, be it private or public sector banks. As more Indian banks embrace digitisation, one is witnessing greater collaboration between fintech companies and banks. It has been witnessed that interest from these entities who want to be there during the shopper's point-of-sale checkout experience and give them a financially viable alternative of installment purchases over paying in lump sum. We anticipate this momentum in collaborative pursuits to continue in 2023 and become even stronger.
Delivering on speed and simplicity
We need to remove friction from the payment experience and ensure the payment process or any other activity that runs flows that it runs to its smooth outcome.
Building secure payment outflows
The fact that digital payments is still at an embryonic stage of adoption and there are still barriers of adoption to overcome, makes it extremely important for every fintech organization to focus a great deal on security of transactions. 
Focus on building 'Commerce Enablers' for partners
Along with building for the core BNPL journeys, the focus  has been on building what are called 'commerce enablers' for partner brands and merchants. Extended Warranty on Pay Later transactions that have been strong sales levers for brands and merchants.
7 key trends that will transform Automation in 2023
UiPATH announced that the rise of the digital workforce and the digital skills rollout will be among seven big trends that will reshape how India works from 2023. According to the UiPathcommissioned IDC APJ Automation Survey 2022, 84% of Indian organizations will scale up their robotic process automation (RPA) initiatives or achieve an enterprise-wide RPA deployment by 2025.  Automation becomes the new way of enterprise's operating and innovating – By elevating automation, they're elevating its impact which leads to a better experience for both customers and employees and results in more value and more revenue. Based on the IDC APJ Automation Survey 2022 commissioned by UiPath, 88% of Indian organizations agree that automation will be a critical requirement for business excellence, customer experience, and competitive success in the next three years. Businesses ramp up automation to counteract growing labor and inflation pressure – According to another UiPath study, 85% believe automation can help reduce turnover and attract new workers. Automation can help on multiple fronts: By expanding automation efforts, organizations can enhance the productivity of the workers they have—while creating a more attractive work environment to land (and keep) top talent. Digital CIOs step up their role and step-up automation to meet new goals – CIOs are building a new digitally focused foundation for growth across the enterprise—and automation is key to their plans. As per the Global Study of CIOs, August 2022, 90% of CIOs say their role has expanded into new areas like analytics, ESG, talent acquisition, and sales and marketing. Cybersecurity, cloud, data, AI—these are the key areas they've been investing in to bring those benefits to light. Now, CIOs are discovering that automation is the new core tool in their arsenal—In fact, according to a report by Foundry, 54% of CIOs are automating business and IT processes to drive revenue. Process mining and automated testing become "must-haves" in driving best-in-class, enterprise-wide automation – Today, new automated discovery tools like process mining and task mining apply advanced AI to system logs and users' work patterns, identifying bottlenecks, inefficiencies, and opportunities to improve across entire systems, workflows, and departments. As per CIO's 21st Annual State of the CIO survey, 82% of execs believe process mining drives better automation outcomes. This key data can then be used to create new or more valuable processes—even before you automate Process mining and automated testing become "must-haves" in driving best-in-class, enterprise-wide automation – Today, new automated discovery tools like process mining and task mining apply advanced AI to system logs and users' work patterns, identifying bottlenecks, inefficiencies, and opportunities to improve across entire systems, workflows, and departments. As per CIO's 21st Annual State of the CIO survey, 82% of execs believe process mining drives better automation outcomes. This key data can then be used to create new or more valuable processes—even before you automate them. Low-code becomes a top priority for getting automation and AI into more people's hands – The good news is today's automation platforms offer unique low- or no-code capabilities— that is, the ability to work with simple drag-and-drop visual interfaces, rather than complex programming. According to an IDC report published in September 2022, 29% more processes become automated when companies introduce citizen development programs. Now, users at all levels can quickly, and easily create more of the unique automation, data models, and apps they need. New AI-powered innovations push automation's boundaries even further – Advanced Communications Mining can extract the unstructured content contained within various messages—emails, calls, chats, and service tickets—and transform it into workable data used to train Natural Language Processing (NLP) models. As per the Precedence Research report in 2022, 39% CAGR for Natural Language Processing has been predicted through 2030. Common questions and requests will be handled automatically, and detailed customer insights will be gathered along the way. Rounding out digital skills becomes the next hot issue for HR and IT leadership – Organizations will need to develop a comprehensive training and development plan focusing on reskilling and upskilling across teams and units, which only 46% of Indian organizations are currently doing according to the IDC APJ Automation Survey 2022.022. Indian respondents highlighted that collaboration with IT (54%), approval from senior leadership (20%), and clear guidance on best practices (14%), are the key requirements for successful implementations.
RBI to track down digital financial frauds via DAKSH platform from Jan 1
The Reserve Bank of India (RBI) will shift its advanced supervising monetary system to DAKSH from January 1, 2023, as part of efforts to streamline reporting, enhance efficiency, and automate the fraud management process, the central bank said in a notification.  RBI initiated the Central Payments Fraud Information Registry (CPFIR) in March 2020 to report payment frauds of scheduled commercial banks and non-bank Prepaid Payment Instrument (PPI) issuers. An efficient fraud reporting process comes with several benefits. It can provide valuable information regarding the source of payment fraud, fraud rates for different payment types, and other vital statistics. If most PSOs are a part of the fraud reporting process, the cumulative statistics will form a representative sample. These statistics would provide valuable input to the RBI to coordinate and enhance security efforts and help promote consumer confidence in payments.
EdTech-8 ed-tech trends to expect in 2023
Hybrid learning models with the new normal including metaverse based experiences (XR)
Metaverse was quite the tech buzzword in the year 2022 and we are likely to hear a lot more of it in 2023. A 3D virtual world, where users can interact with each other and with computer-generated objects and avatars, metaverse has the potential to change how concepts are taught and learnt. Replicating the real-world scenarios in a safe environment will enable students to engage with the concepts in a deeper and more meaningful way. A common thread of discontentment with traditional education has been the lack of its applicability in the real world. Metaverse, with its hands-on aspects, will be able to solve this problem and demonstrate how complex and diverse ideas can be applied to solve real-world problems.
Concept of Digital backpack which include your digital learning trail, evidence and projects 
Equipping kids with a digital backpack, which will contain the tools, applications and resources they will need to learn and research, their learning trails, projects, assignments will make the learning experience smoother for both students and teachers, especially for online learners and those who can't be present on campus. 
Use of blockchain for credentials, CV and projects trail
Blockchain and the adoption of Web3 will make the entire process of verification seamless and more reliable, be it regarding dubious certificates, references mentioned on a CV, projects undertaken and more.
Microcredentials and achievement tracking
We are likely to witness educational institutes – both online and offline, offering micro-credentials or mini-qualifications that will demonstrate a student's skill set, knowledge or experience in a given subject of study, focussing on application and not just theory.
Community contribution and impact on learning
Integration of technologies such as Web3 with education will enable students and learners across the globe to transcend the limitations of a centralized system of education and connect with teachers, experts and professionals from anywhere at any time.
Special education needs
In 2023, we can expect technology to play a greater role in helping children with special learning needs. Assistive technologies, audio and visual aids, speech-recognition software, text-to-speech software and physical aids to become more accessible and cost-effective.
Learning behavior and style analysis for personalization
Big data analytics and machine learning algorithms can be used to identify, track and analyze learning patterns and behaviors in kids and create personalized lessons and study plans that will be able to tap and enhance their innate learning capabilities without them feeling overwhelmed.
White Hat gamification
As we witness a change in the traditional system of evaluation, we are also likely to observe a change in the way kids are rewarded for their performance. Incorporation of White Hat gamification techniques such as leveling up or unlocking a specific achievement at every stage/level of learning will keep the child engaged and motivated for longer durations.
5 trends experts expect in the Web 3 industry in 2023
Risk in the crypto sector remains 
The year 2022 was turbulent for cryptocurrency. The collapse of one of the biggest crypto exchanges FTX in December this year further exacerbated the situation. The chances of a bounce back in 2023 looks uncertain. 
Utility NFTs to evolve 
Until now, the vast majority of non-fungible tokens (NFTs) have been just digital pieces of art with tremendous prices, often lacking a practical usage. This concern is giving rise to utility NFTs, enhancing the concept of digital collectibles by providing holders with real-world rewards and other privileges linked to ownership.
More sustainability efforts in Web 3.0 
The Web 3.0 industry has very high energy usage, most of which comes from fossil fuels – a cause of concern for the industry in general. Perhaps the most notable green effort was the Ethereum Merge in September 2022, where the blockchain switched from proof-of-work (PoW) to proof-of-stake (PoS), which over time is expected to lead to a 98% reduction in the overall amount of energy used by the network.
Metaverse investments to grow 
Metaverse, which is linked to web 3.0, is a 3D interactive experience space that allows users to interact with 3D objects using augmented, virtual, and mixed reality. According to a June 15, 2022 report by consulting firm, McKinsey & Company, two thirds of consumers are excited to transition everyday activities to the metaverse in the next 12 months and that more than $120 billion has been invested in building metaverse infrastructure and technology in the first five months of 2022. 
CBDC rollouts to increase 
Since 2021, world governments have been working on central bank digital currencies (CBDC) efforts. According to American think tank Atlantic Council's December 2022 tracker, CBDCs are in the research and development phase for over 100 countries. Eleven countries have launched their CBDC programs, including Jamaica, Nigeria and the Bahamas, while countries like China, India and Thailand are in the pilot phase.  On December 1, the Reserve Bank of India (RBI) announced the launch of India's CBDC, which covers the four cities of Mumbai, New Delhi, Bengaluru, and Bhubaneswar right now. It has on boarded four banks, namely, State Bank of India, ICICI Bank, Yes Bank, and IDFC First Bank. 
Reels, Gen Z and chatbots will redefine social media in 2023
The demand for reel-based content is set to have more takers. Experts say LinkedIn will be about much more than jobs, GenZ will redefine UGC, social SEO will replace hashtags and closed captioning will be the default on social video. Social media & marketing strategies. Talking about how social media has evolved in recent years, Ameer Ismail, President of Lintas, live, says that after the unfortunate spike of Covid, social media has proven to be the most effective and easiest way for brands to communicate their proposition because of the quick turnaround of assets/campaigns and the platforms. Tussle between platforms – Ravi Kumar, Founder, and CEO, MadHawks, says, "Facebook, as the most popular social media platform, will continue to take a larger business share from brands. Instagram is rapidly catching up and may soon overtake Facebook in terms of user numbers. However, it is unlikely to occur in 2023. The ageing demographics of Facebook users, which also mean higher spending power, are a better bet. This has the potential to be a valuable resource for future Facebook business growth. LinkedIn could be the underdog among all the talk about Facebook and Instagram taking over the spotlight for brands. Despite having a smaller audience, LinkedIn's success will be driven by the tightly knit communities and clear intent of the audience. Twitter, on the other hand, has seen a massive clash – so it's a good idea to keep actively engaging with your audience as the platform will catch their attention throughout the year – For better or worse."
Ecommerce 'dark patterns' an unfair trade practice: Govt
Have you ever tried to buy something online only to notice, at the final checkout page, some extra item had been sneakily added into your cart? Or while booking an airline ticket you are informed "Only 2 seats left at this price" to create a sense of urgency to make an immediate Decision? Known as dark patterns, these user interfaces are crafted to trick or manipulate users into making choices that are detrimental to their interest and the Indian government is looking to frame regulations to restrict the usage of dark patterns. "Dark patterns are unfair trade practice and a cause of concern," Rohit Kumar Singh, secretary, ministry of consumer affairs, said. The issue of dark patterns is now an increasing concern for those working in the area of ecommerce. Dark patterns mainly pertain to advertising or unfair trade practices, he added. Dark patterns, most prevalent in advertising, are used to lure consumers into buying a more expensive product, paying more than what was initially disclosed, sharing data or making choices based on false or paid-for reviews. The European Data Protection Board (EDPB) has adopted guidelines on dark patterns in social media platform interfaces and offer practical recommendations to designers and users of social media platforms on how to assess and avoid so called "dark patterns" in social media interfaces that infringe on GDPR requirements. The central government is reportedly planning to create guidelines for ecommerce platforms to regulate the usage of dark patterns, calling it an unfair trading practice. Earlier, the Advertising Standards Council of India (ASCI) also shared plans of widening its online adverts code on 'dark patterns' to protect the interest of online consumers.
The next wave of growth in Digital Bharat lies in the democratization of data
India is well on its way to becoming a $1 trillion consumer internet economy propelled by a large domestic market. At 'MAMA India – The Digital Bharat 2.0' event – the Indian edition of AppsFlyer Mobile Attribution and Marketing Analytics event series, key stakeholders like Sanjeev Bikchandani of Naukri.com, said India has become a much bigger market compared to what it was 35-40 years ago, as Indians have bigger ambition fuelled by more smartphones, UPI stack and mobile telephony. Digitization leads to more inclusion. Online banks and Fintech companies have made financial services easier. India Stack Democratizing Data – GoI's intervention like UPI, Unified Healthcare Interface and initiatives like Ayushman Bharat Digital Mission have made healthcare accessible to both rural and urban Indians. 
Multicloud strategy will dominate Indian enterprises in 2023
It was unquestionably a year of technological dynamism, particularly in the cloud space, as new cloud computing models came to the fore. With businesses increasing their investment in cloud, they continue to prioritize flexibility, agility, scalability, and cost-efficiency. A significant IT trend has emerged in recent years – customers are realizing that a single public cloud cannot meet all their business needs. A multi-cloud strategy will be the de facto approach to ensure customers can get the benefit of the best services from more than one cloud provider. A multicloud environment is often the right choice for organizations to balance price, performance, and agility in a world with many cloud-based services and solutions. Oracle Cloud Infrastructure supports robust multicloud solutions, enabling simpler management while minimizing integration complications and security risks. This strategy is typically driven by workload, business, and data governance requirements. When designing a multicloud solution, it's essential for companies to consider network latency, data movements, security, orchestration, and operation management, which ultimately drive their architectural decisions. Organizations are looking for cloud providers that can collaborate with one another and offer on-demand services.
829 mn cyber attacks blocked; 59% of targeted websites in India: Indusface
India continues to climb the cyber crime charts. According to the recently released 'State of Application Security Q4, 2022' report by Indusface, which analyzed 1,400 applications and blocked over 829 million cyberattacks in Q4 of 2022, about 59 per cent of the websites attacked were in India. Indusface, also reported that from a revenue perspective, mid-market companies with revenues between $10 million to $1 billion have been subjected to 45 percent of the cyber attacks and only 21 percent were large enterprises with over $1 billion in revenue. On the other hand, small businesses accounted for 34 percent of the attacks, implying that every business is at risk. The ability to create custom rules has stood out as a key enabler of cyber security. On an average, each enterprise deploys 48 custom rules, and 60 percent of all attacks were blocked using them. The report also highlights the increased use of 'virtual patching' to protect applications at the Web Application Firewall level. DDoS attacks affected 32 percent of all apps during the last 60 days of the observation period. The top three segments vulnerable to the attacks are banking, insurance, and other finance companies, followed by IT services and manufacturing companies.



In this article