Dolby India took lead in their co-marketing campaign – 'Dolby Main Suna Aur Dekha Kya?', to address a common goal with its partner brands – LG, Sony, Samsung, Realme, & Xiaomi, highlighting unforgettable experiences delivered on devices with Dolby technology. This is as per a report by Social Samosa.

The campaign has been designed to demarcate the difference between the Dolby Experience and a generic one, where the partner brands lend a hand to the potential of sight and sound that, together, makes for the perfect, immersive entertainment. The campaign showcases partner brands' devices, and its functionality powered by Dolby tech of providing an immersive experience.
The D2C campaign leads with this Master Film supported by 5 partner brand specific cut-downs films, that highlight a different content passion – TV Shows, Movies, Music, Gaming & Live Sports.
About The Campaign
The core creative idea behind this campaign is inspired by a very common & colloquial reference made in India to a big revelation – You ought to Hear & See this. The film tracks a day in the life of an Indian family, and how Dolby brings alive experiences they love – TV Shows on the go, mobile gaming, streaming music, or their favourite movie in the living room.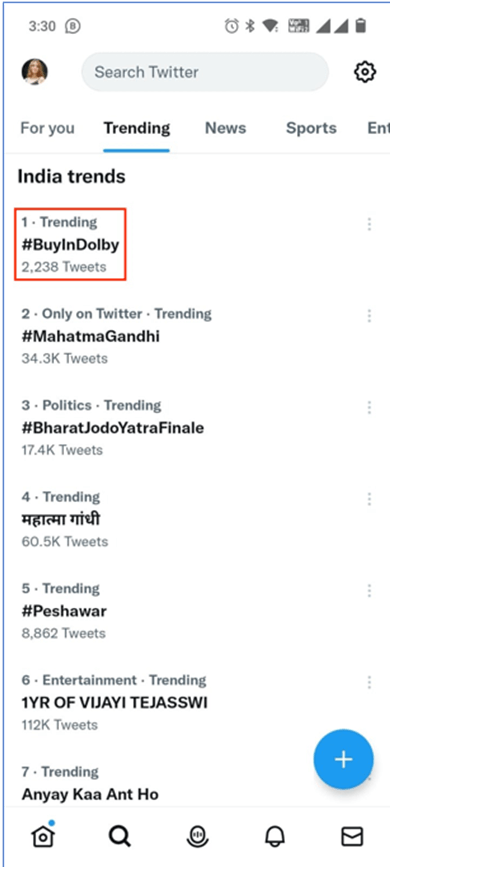 The creative direction ushers in a sense of FOMO in our audience to pique their interest, making them realize that their experience is incomplete without Dolby. With the realization that you don't just hear & see, you experience & feel entertainment come alive in Dolby, the campaign hopes to induce purchase of a Dolby-enabled device – #BuyInDolby.
The campaign features content passions that consumers connect with – a favourite TV Show, a Movie, a song, a mobile game or sports, encouraging participation from the brand's online communities, followed up with a hashtag reveal. What followed was unprecedented on social media — the hashtag trended, not just for minutes but for hours.
In an interaction with Social Samosa, Sameer Seth, Director Marketing, Dolby India added on the co-marketing approach, "The campaign leverages co-marketing which is a concept that truly co-creates value among like-minded partner brands who are collaborating around a common goal that they have identified. This I believe is a very effective tool for building brand salience and equity. Co-marketing enables brands to broaden their audience and helps increase awareness and engagement. I call it a marketer's delight as it truly allows partners to capitalize on the strength of each other.
In collaborative marketing or a co-marketing campaign, you can channelize the collective mind of each partner brand to amplify a common message. This will enable you as a brand to get additional additive reach and engagement. You could also reach out to unique audiences which your brand was perhaps not reaching all this while, so just imagine the collective mind of all partner brands coming together and that you would see with this campaign."
realme
realme is known for its stellar gaming experiences. In this case, the value proposition is highlighted through this cut-down film with realme that shows how Dolby Atmos on realme Nazro 50 Pro can take the gaming experience to a whole new level, immersing the viewer with moving audio for precision gameplay.

Tao Zhang, Chief Marketing Officer, realme mentions "Consumers today are aware of their needs. They desire better experiences that not only cater to their five senses but also transport them to the moments they are watching on the screen or hearing on their on-the-go devices. We are delighted that we share the same vision as Dolby to give an immersive experience to our consumers on realme devices with Dolby technology. We congratulate Dolby on the Suna Kya Dekha Kya campaign and wish many more successful years to one of our most trusted partners."
LG
LG, a household name for a complete range of living room experience solutions. In this case, the value proposition is highlighted through this cutdown film with LG that showcases how Dolby Vision & Dolby Atmos-enabled LG OLED TV with a Soundbar creates a stadium-like experience at the comfort of one's couch. Dolby takes live sports experience to a new level and ensures sharper visuals and more crisp sounds so that the viewers can feel every detail from the stadium.
Gireesan Gopi, Regional Business Head, LG Electronics said, "LG has always been at the forefront of developing new and advanced technologies. Dolby Vision IQ and Dolby Atmos combined with the innovations by LG provide a unique edge to our OLED TVs. High-quality imaging and audio are essential elements of the TV viewing experience, and with Dolby, we have been able to excel in creating that. With our decade-long collaboration, we have been able to create a range of industry-leading solutions. We hope to continue to work together in this direction for more differentiated collaborations".
Xiaomi
Xiaomi, one of the largest-selling smartphone brands in India never compromises on high-end technologies. With Dolby Vision & Dolby Atmos support, it ensures an unmatchable content consumption experience on smartphones. As a "Mobile First Nation", Indians love to consume contents on the go, and this cutdown film with Xiaomi precisely portrays how Xiaomi 12Pro immerses the viewers in their fvourite TV Show with Dolby Vision and Dolby Atmos support.

Anuj Sharma, Chief Marketing Officer, Xiaomi India, "The rising demand amongst consumers for an immersive audio-visual experience has led to a steady evolution in technological advancement. Xiaomi and Dolby share the same synergies to offer technology that enhances the overall consumer experience. Our collaboration for the Suna Kya Dekha kya campaign will enable us to deliver next-gen realism with both Dolby Vision ultra-vivid imaging and Dolby Atmos immersive audio to our consumers. As strategic partners, together we aim to provide the most spectacular experiences to our consumers and prove that when two-like minded brands come together, they can create magic."
Sony
Movies are most certainly a key passion that most Indians associate with. In this cutdown film with Sony, a family can be seen enjoying sharp details with Dolby Vision [Dekha Kya] & the multidimensional spatial sound of Dolby Atmos [Suna Kya] in a movie that puts them in the middle of the mission with the jungle coming alive all around them, on a Dolby-enabled Sony Bravia TV with a Soundbar.

Samsung
Music is always around us throughout the day. This cutdown film with Samsung showcases how consumers can enjoy Dolby Atmos Music on the Samsung Galaxy Flip4 with Galaxy Buds2 Pro. These two Samsung devices with Dolby Atmos and Dolby Head Tracking can even pinpoint the direction of the sound as one moves his head, giving the spatial audio experience to music like never before.

Social Media Play
The campaign leveraged digital medium very effectively by creating multiple digital destinations. Dolby & the 5 partner brands engaged in a Twitter banter highlighting various experiences such as watching a sci-fi TV Show on a Xiaomi device, Movie on Sony TV, watching live sports on LG OLED TV, playing games on a realme phone or listening to music on a Samsung phone. It took users on the veritable ride of sharing their experiences of the most effective Dolby pairings in the entertainment world.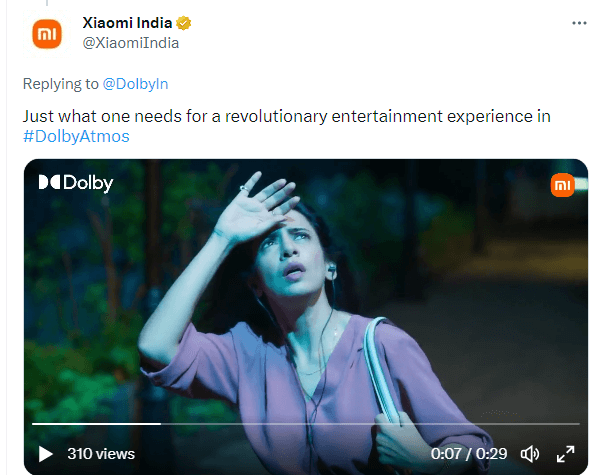 To drive engagement, Dolby and its 5 partner brands ran a Twitter banter that saw engaging responses from fans of both the brands.


To further signify the cinematic value and enhanced visual elements, the brand projected the difference in content consumption with and without Dolby Vision, a technology by Dolby that augments depth, contrast, and colors to transform the science of sight and sound into spectacular experiences.
The co-marketing activation was also brought in using social media platforms features an Instagram 'Collab' and the distribution of films highlighting the integration of Dolby Technology in devices such as LG OLED TV, realme mobile phones, or on the Disney+ Hotstar OTT platform.
Among other touchpoints for the campaign, there is a microsite on the main Dolby website and the brands is running an active digital outreach on its own & partner social touchpoints.
To amplify the #BuyInDolby further, Dolby created an eStore on Amazon.in where users could pick their favorite products from the categories – Television, Smartphones, Laptops and Soundbars and Home Theatres which are Dolby enabled.
With the campaign, Dolby exhibits how the right collaboration can make communication stronger and engage the audience on a profound level.
View this post on Instagram