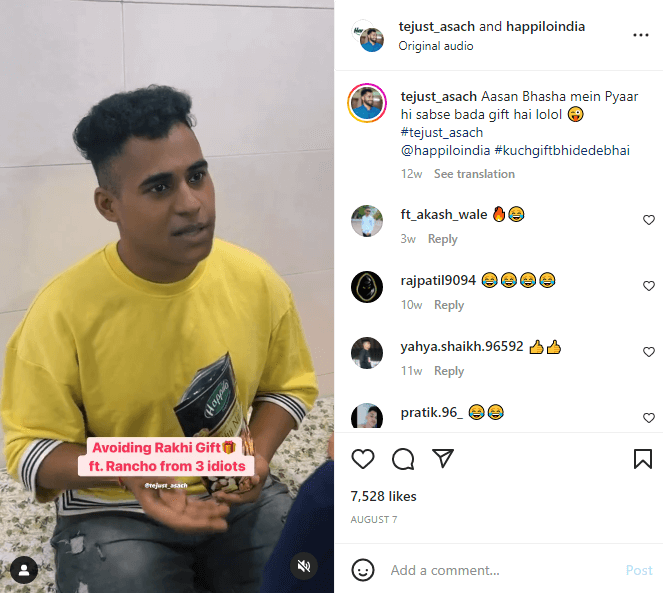 On the occasion of Raksha Bandhan, Happilo showcased the sibling bond through an elaborate social media push where influencers showcased the sibling rivalry through #KuchGiftBhiDeDeBhai.
Happilo is a health food brand from Bengaluru that brings its audience a range of Nuts, dried fruits, seeds, and more. The brand has been heavily infused with digital marketing techniques and has a wide reach to its audience through social media. This Case Study explores how the brand curated a marketing mix to gain traction this Rakhsha Bandhan.
Category Introduction
The snacks industry of India is the most promising and booming segment of the FMCG category. Consumers always prefer healthier and more flavourful options in the food market. The Indian snacks market is expected to grow in double digits, with a CAGR of 13.24% from 2020 to 2026. The market is expected to rise to $23.36 billion by 2026. A report suggests that 74% of respondents to a survey like to eat numerous small meals over the course of the day rather than a few huge ones. Some meals are getting replaced by snacking. Snacking and beverages represent 30% of sales of fast-moving consumer goods, as indicated by Nielsen. A new report by economic scientist Mintel said that the perseverance of COVID-19 has placed the focus on how consumers' dietary and way of life decisions matter.
There has been overwhelming evidence to suggest that consumers are leaning toward snacking multiple times during the day, and healthy snacking is seeing an upward trend. As per a recent survey led by a statistical surveying organization, the market for clean snacks has developed from 10-12 percent to very nearly 20% in the year 2021. Additionally, 64% of the participants responded that the deep-rooted example of three complete courses of meals has been supplanted by taking different healthy snacks over the course of the day. Furthermore, the report suggested that 47% of the respondents said that they snack a few times each day, while 27% admitted that they consume snacks even at night. 
Brand Introduction 
Founded in 2016 by Vikas Nahar, Bengaluru-based D2C brand Happilo sells high-nutrition snacks like nuts, dried fruits, organic seeds, dry-roasted snacks, trail mixes, nut protein bars, and muesli, in enticing and delectable flavors that are best suited to the Indian palate. 
Social media is one of the primary marketing tools for Happilo. As a young brand catering to a wide range of audiences, social media acts as a platform that helps the brand connect and engage with consumers directly. While the other mediums allow the brand to communicate with the customers, social media enables two-way communication between the brand and consumers, where the latter share their thoughts and communicate with the brand. 
The marketing objectives of social media are: 
Generate brand awareness
Build a social community of snack lovers
Create engagement and increase brand loyalty
Build a positive brand perception
Summary of the Campaign 
The brand launched a social media campaign #KuchGiftBhiDeDeBhai emphasizing the festive fervor of Raksha Bandhan. While all the brands play on the emotional aspect of the relationship, Happilo took an interesting play on the mischievous bond by adding a Bollywood touch, in tune with its personality, which is all about being mischievous, funny, and enthusiastic. By roping in popular social media influencers, namely Danny Pandit, Harshita Gupta, and Aatman Desai, the influencers created humorous content impersonating popular Bollywood characters. The videos take a witty play on the customary practice of giving gifts to sisters, therefore tying in with the brand's messaging – #KuchGiftBhiDeDeBhai.
Problem Statement/Objective 
Exchanging gifts is an important custom on Raksha Bandhan, and the brand wanted to launch a campaign that underlines the value of this tradition and the playful bond between siblings in an entertaining and light-hearted manner, adding a touch of Bollywood.
Brief
The brand wanted to reach out to a younger audience in a format that would appeal to them the most and drive engagement. The idea was to establish the brand not just as a daily snacking partner but also as a preferred gifting choice for celebratory occasions such as Raksha Bandhan and be in tune with a jester personality.
Creative Idea 
The brand took an interesting and quirky play on the mischievous bond through Bollywood. The brand roped in popular social media influencers such as Danny Pandit, Harshita Gupta, and Aatman Desai. The influencers created humorous content impersonating popular Bollywood characters, denying gifts to their sisters while using iconic movie dialogues. The videos take a witty play on the customary practice of giving gifts to sisters, reflecting the brand's messaging – #KuchGiftBhiDeDeBhai.
Challenges
Raksha Bandhan is a very important topical occasion where products like chocolates and sweets compete for a greater share of the consumer's attention. On such a competitive topical occasion, the brand wanted to create content that is relatable, engaging, clutter-breaking, and appeals to younger audiences.
View this post on Instagram
View this post on Instagram
View this post on Instagram
Reach: 2.8 Mn
Views: 7 Mn
Likes: 5,01,101
Qualitative
The brand recorded 65.52% positive sentiments on Instagram
"Exchanging gifts is an important custom on Raksha Bandhan. The brand wanted to create a campaign that underlines the value of this tradition and the playful bond between siblings in an entertaining and light-hearted manner. By adding a touch of humor and Bollywood, we were able to make our campaign stand out from the usual sentimental content that other brands put out." – Nikita Aggarwal, Marketing Head, Happilo
Source: Social Samosa



In this article