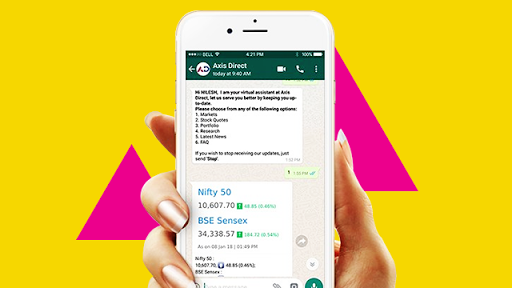 AxisDirect, the retail broking and investment services brand of Axis Bank's financial services subsidiary Axis Securities Ltd., has launched a WhatsApp-based virtual assistant for providing customers with personalised market information on the go.
Powered by an AI-based chatbot the assistant provides personalised market alerts, research ideas and market updates on WhatsApp. The AI is enabled to fetch live index movements, portfolio values and stock quotes. The bot can also answers investor queries through chat.
Anyone can subscribe to the chatbot by clicking on the link sent via text or email message that takes the user to a WhatsApp conversation window that is linked to an 'AxisDirect number. Once the user ads the number to his/her contacts and sends 'Start AxisDirect' to the same contact number he/she will start receiving alerts.
The bot provides additional features like live portfolio, order placement and personalised alerts results based on their portfolio to Axis Bank customers.*
According to experts voice-based computing being the next big thing in the digital space, it is safe to say that more and more voice-based innovations would be seen in the service sectors, especially with Google Assist.
Recently in December HDFC Bank launched 'Eva' a chatbot for answering customer queries through Google Assistant. All the user needed to say is "Ok Google, talk to HDFC Bank", and you'll be connected 'Eva'. 'Eva' is working with Google Assistant on millions of Android devices.
In this article