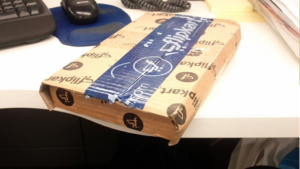 According to the reports, around 30% of all fashion products ordered online are returned for various reasons. This translates to an estimated loss of about Rs. 870 crore per year. This costing include products not delivered because of logistics issues or rejected by a buyer without taking delivery.
Inspite of such huge losses, the fashion industry has no other option but to allow for returns to encourage customers used to trying on clothes before buying to also shop online.
Sandeep Kohli, senior director of engineering at Flipkart, one of the fashion units that dominates the online fashion market, told ET that the company deploys "machine learning models to predict the intent of the user to accept the order at the time of placing an order… (and) to detect fraudulent or invalid addresses."
He also added that, "If the model predicts lack of user's intent, various levers like asking the customer to pay upfront are deployed. This helps in reducing the return fraud."
As reported by ET, Myntra, which allows for 'no questions asked returns' and a high return cycle of 30 days, analyses customer data to minimise its rate of product returns.
Ananth Narayanan CEO, Myntra told ET – "Based on the customer's purchase and returns history, we have notifications to inform them in case they are buying the wrong size within a different brand," "This inhouse technology was launched a couple of months ago and we expect this to lead to a 2% drop (in returns)."
The report also says that Myntra's product return rate is 12- 14% of all orders, according to industry estimates, and another 10-12% of its orders fall under the category of 'return to original,' or RTOs, which means these products couldn't be delivered or were not accepted by the buyer.
For Flipkart, overall product returns and RTOs in the fashion category add up to 15-20%, according to industry estimates.
Sujayath Ali CEO, Voonik said that "The impact has been slow and steady. Initially, we were losing money on every shipment but today we make 20% margin on it."
As per reports for all this, the high rate of returns of fashion products boils down to the basics of size and fit, and analysts believe online retailers need to address that urgently.
"Most established brands are still not ecommerce-ready when it comes to product readiness and labelling," said Sreedhar Prasad, partner and head-consumer market and internet business, at KPMG India. "Sizes in one brand may not be the same in another. Sometimes, there are variations within a brand as well."
In this article